As you dive into wedding planning, one crucial aspect you should carefully consider is setting the perfect RSVP date. In this blog post, we'll guide you through best practices for choosing the ideal reply date, ensuring your big day organisation is both seamless and stress free.
WHEN you send your wedding invitations has an impact
Sending out your wedding invitations at the right time significantly impacts your RSVP response rate. If you send your invites out too early, guests may unintentionally put off responding, assuming they have ample time to reply. As a result, you might experience delays in receiving RSVPs, making it challenging to finalise your guest count and wedding arrangements.
To encourage timely responses, aim to strike a balance by sending out your invitations between two to three months before the wedding date. This timeframe allows guests enough time to plan and respond promptly, arrange for annual leave from their jobs, as well as make travel and accommodation arrangements well in advance. The ideal wedding invitation timeline is available here.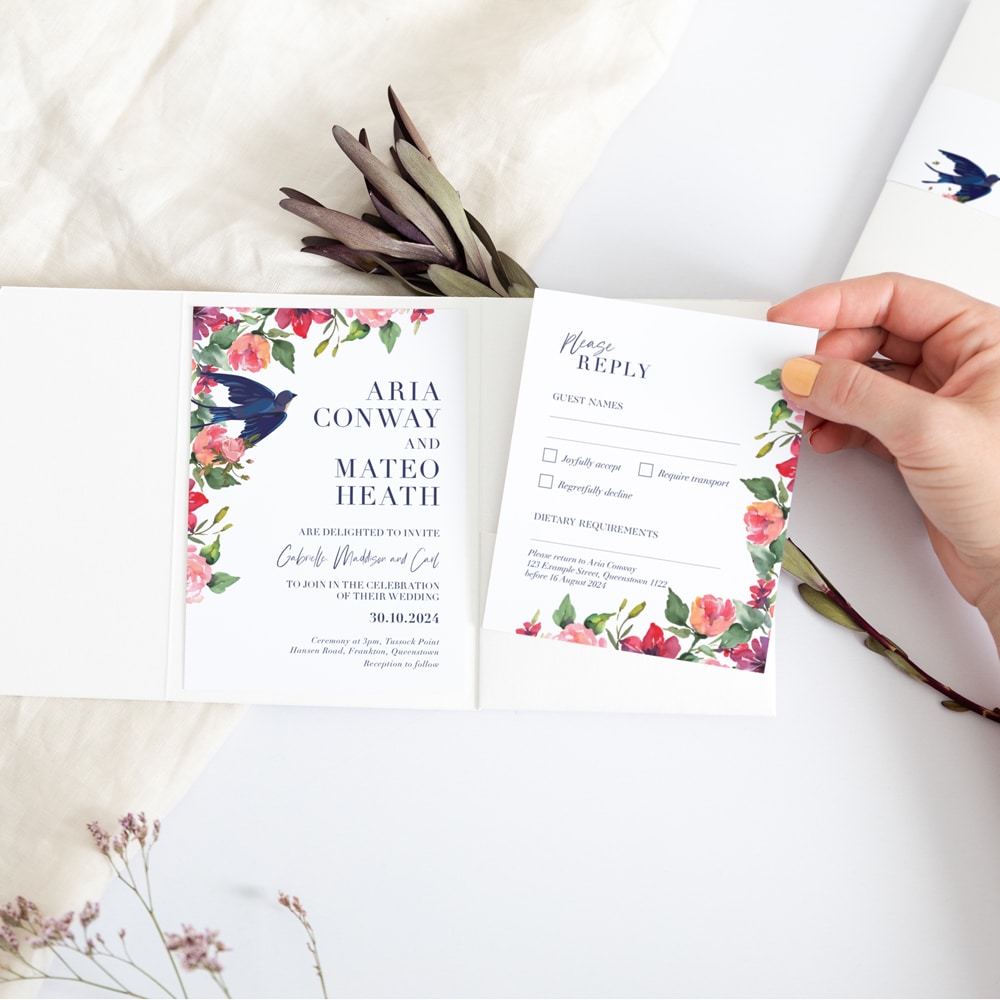 But will guests be able to come?
If you find yourself worried about your wedding guests not being able to attend with only 2-3 months' notice, consider sending Save the Date cards.
Save the Dates serve as an initial heads-up to your guests, allowing them to mark your wedding date on their calendars well in advance. By sending Save the Dates earlier in the planning process, you provide your loved ones with ample time to make necessary arrangements, such as booking time off work and arranging travel and accommodations. Typical timeframes for sending Save the Dates are six to twelve months before the wedding - but as far ahead as 18 months before is not unusual.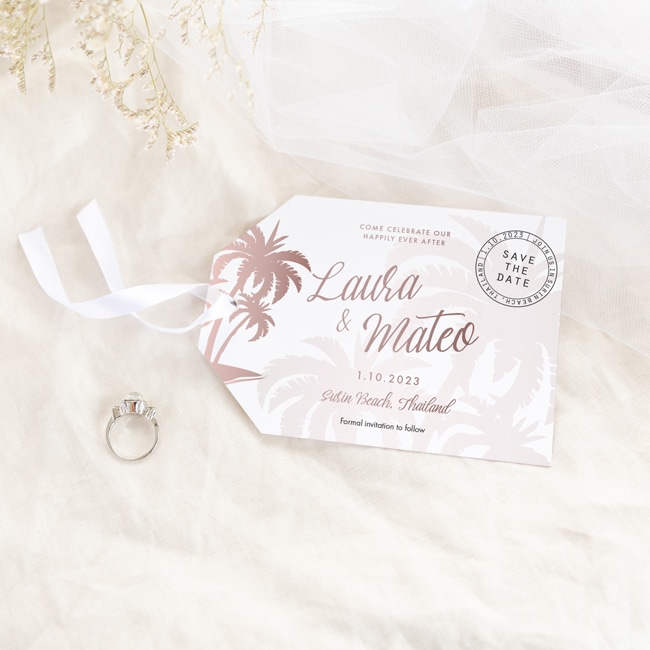 Extra-early notification can be especially helpful for destination weddings or when many guests are coming from out of town. Sending Save the Dates ensures that your guests are informed early on, increasing the likelihood of a higher RSVP response rate when your formal invitations are sent out later.
Determine the Ideal RSVP Window
Your RSVP date should ideally fall a month before your wedding day. This provides a balance between giving guests enough time to respond and finalising essential details for your wedding planning.
Before settling on an RSVP date, take a moment to assess your wedding timeline, priorities, and communicate with wedding vendors to determine when they need final numbers. Whether you opt for traditional RSVP cards or a wedding website, keeping everyone in the loop is vital. Additionally, account for mail delivery times, particularly if you have guests attending from afar.
The traditional 4 week rule has stood the test of time for a reason—it strikes a balance between giving guests enough time to respond and providing you with ample time for final head counts and vendor coordination. Any longer can affect the accuracy of guest counts and meal choices. While it may be tempting to set an RSVP date further in advance, doing so may lead to changes in your guest's plans due to unforeseen circumstances like work commitments, relationship changes, pandemics, or travel disruptions.
Your RSVP date directly impacts critical aspects of your wedding planning, such as final headcounts for the venue and caterer. Additionally, vendors may require specific deadlines for flower arrangements, rentals, and other services.
For destination or holiday weddings, extending the RSVP deadline might be necessary. So as with anything, consider one month a guideline, not a hard and fast rule.
Ways to Encourage Timely RSVPs
Providing guests with only one or two options for how they RSVP is essential for the ease of tallying responses and avoiding overwhelming them with different methods. Simplifying the RSVP process streamlines the task of tracking and managing guest replies, allowing you to maintain accurate headcounts effortlessly. Offering numerous options might confuse guests, leading to delayed or missed RSVPs. By presenting a clear and straightforward RSVP process, you ensure that your guests feel at ease when responding, contributing to a higher response rate and a smoother wedding planning experience.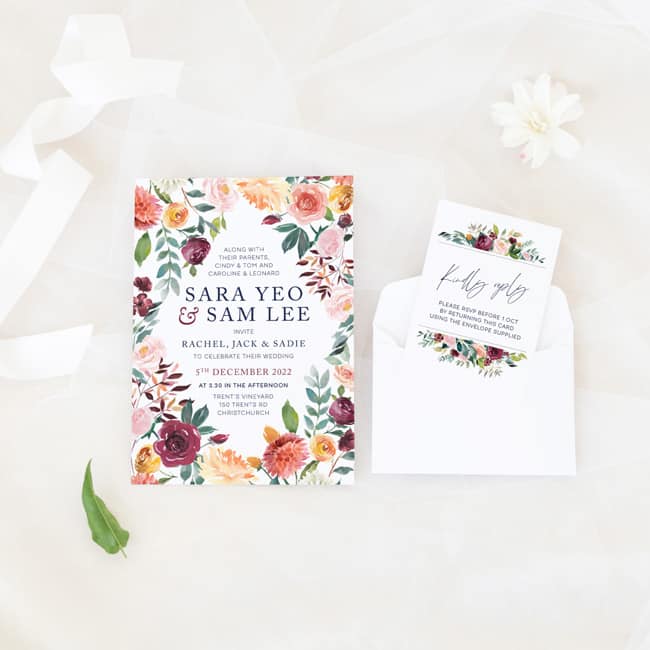 Encourage enthusiastic responses by asking your guests personalised questions on the RSVP card. This could include meal choices or their favourite song for the DJ to play. Personalised questions show thoughtfulness and make the RSVP process more enjoyable for guests.
As a wedding stationery business, we cherish the beauty and tradition of physical RSVP cards. Paired with an elegant envelope for returning in the post, they evoke a sense of nostalgia and anticipation for your guests. Include an address on the return envelope and prepaid postage, making it convenient for them to reply.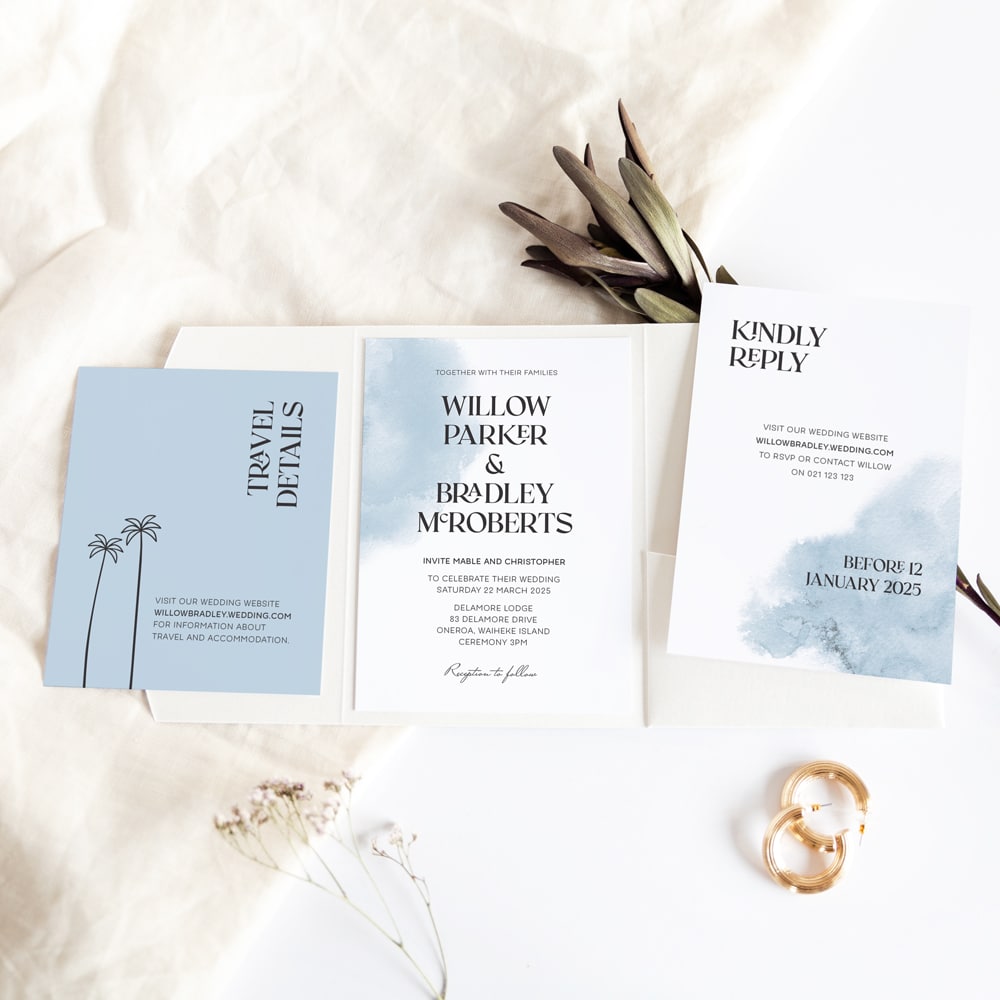 If you prefer a more modern option for receiving replies, you'll find many options for digital RSVP tools and websites. Some wedding websites even integrate into guest list software to efficiently record and organise guest responses. But there is nothing as simple as providing your email address.
The Art of Tracking RSVPs
With a guest list in hand, create a comprehensive database to track RSVP responses. Our Wedding Planning Template includes a Guest List which allows you to keep track of your guest's responses as they arrive. Use the 'Share' Function to add your partner and parents as Editors into the Google Sheet. Then they can add in any RSVP responses they receive, sharing the wedmin and keeping everyone on the same page.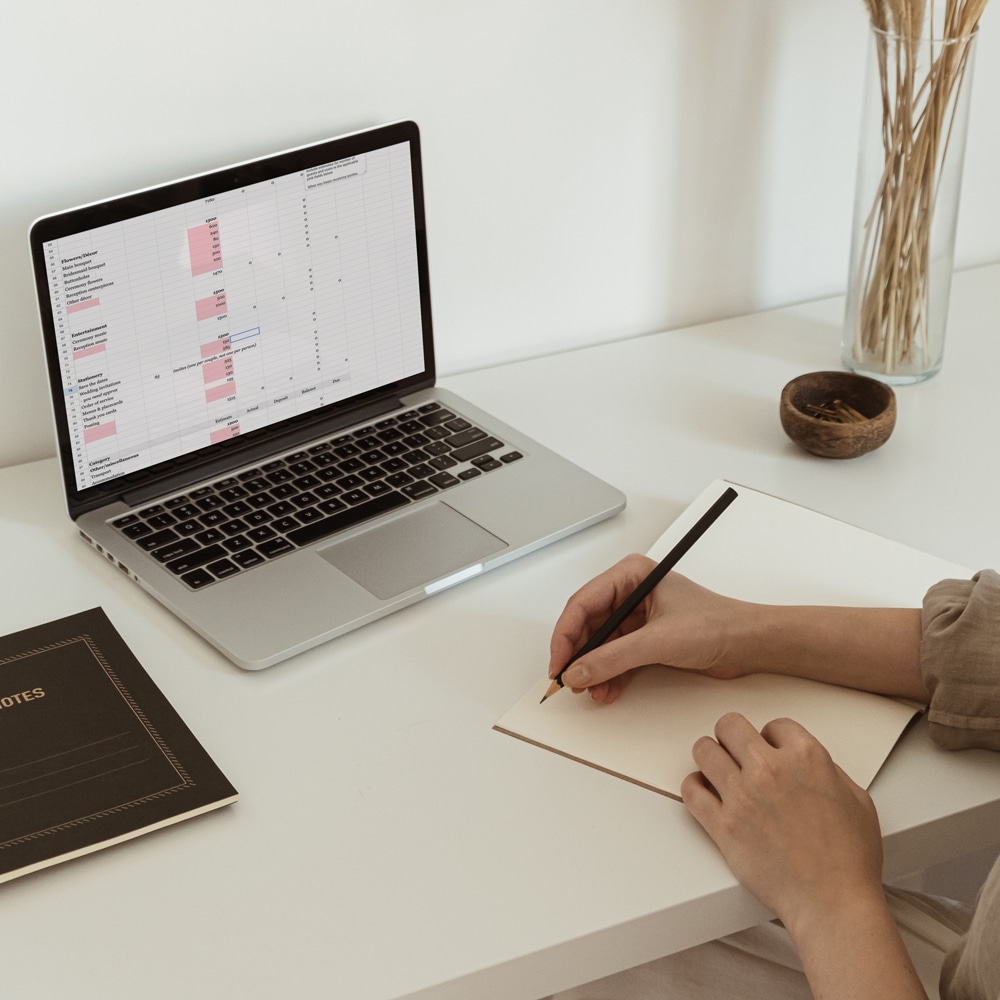 Addressing RSVP Challenges
Our goal is to make the RSVP process as smooth as possible, ensuring you can focus on creating beautiful memories for your special day. Here's our suggestions for dealing with RSVP challenges: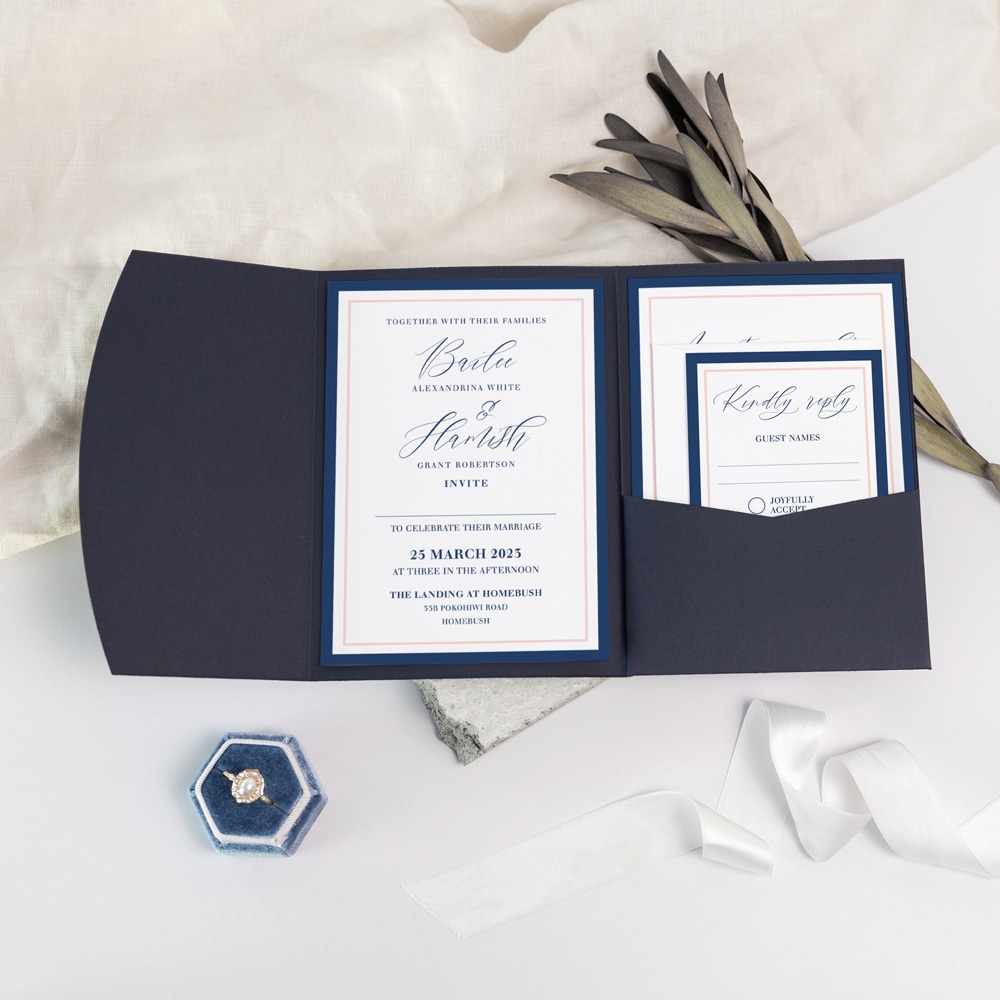 Guests adding extras onto their RSVP card
Unexpected guests or plus ones may throw a curveball your way. We can pre-print guests' names directly on the response card, providing an added touch of personalisation while ensuring accurate tracking. Moreover, to help you keep track of the guest count precisely, we can prepopulate the number of seats reserved on the "__ number of seats have been reserved" line. This discourages guests 'reserving' spots for extras that you haven't invited!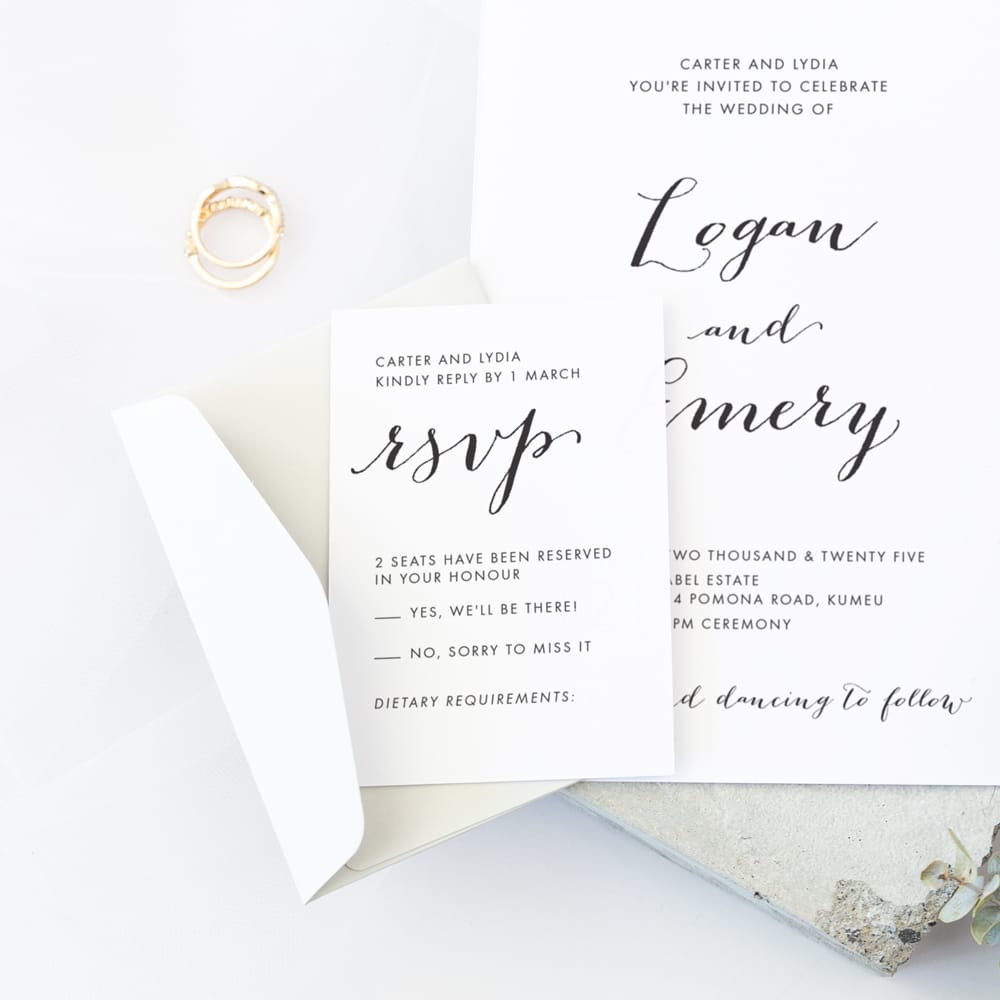 Guests forgetting to add their name
One effective way to track RSVPs and avoid any confusion is by including a small numbered code on each card, corresponding to the guest that you've sent the invite to. This allows you to identify your guests response if they forget to put their names on the response card.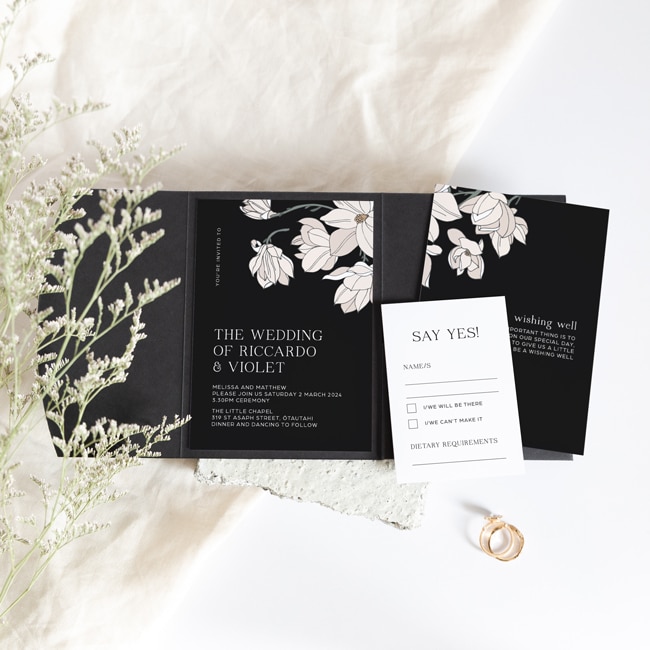 Dealing with late replies
Late RSVPs are an inevitability. If there's a lot of missing responses, consider enlisting a parent, your fiancé or a bridesmaids to assist with chasing them up. Some guests will be shy or embarrassed about saying no directly. We recommend sending out an email (use the BCC function) and remind them firmly (but politely):
"Hey everyone, the wedding is coming up really quickly - I can't believe it is only three weeks away! I really need to finalise guest numbers ASAP – got to keep the caterers happy. If we haven't heard from you by Monday, I'll have to assume you can't make it. Love, The Nearlyweds".
This wording gives you (and your caterers) some certainty.
Setting a wedding RSVP date is a delicate balancing act, blending cherished traditions with modern conveniences. By following these best practices, you'll ensure a stress-free RSVP process, allowing you to focus on creating memories that will last a lifetime. Your dream wedding awaits—let's make it unforgettable, together!