One of the most popular perks of working with Be My Guest Design is adding your guest's names to your wedding invitations at no extra cost! Personalising each invite with your loved one's names is an elegant introduction to your wedding festivities.
We've put together some guidelines to help our busy couples, as often the first question we get is "well, how do you want the names then?"
That's a great question to hear, as thinking ahead and submitting your guest's names in the correct format means your design can be created faster, and has less chance of typos/errors happening.
Where to write guest names on wedding invitation
Customising wedding invitations with invitee names is great to do, because:
You'll want to incorporate the guest's names into your wording so that it will read properly. Read your proposed wording out loud. Does it sound right? The designers at Be My Guest are experienced in wording your wedding invitations. We will offer tweaks to ensure your guest names are incorporated seamlessly on your invitation cards.
Claim your free Wedding Invitation Guide
Planning your wedding invitations and stationery can be a daunting task. But fear not, Be My Guest Design is here to demystify the process for you!
Introducing our comprehensive Wedding Invitation Guide—a 24-page booklet designed to address all your questions and concerns in one convenient place.
Save the Date cards: Make a memorable first impression
Wedding Stationery Timeline: Stay on track with ease
The Basics of Wording Your Wedding Invitations: Find the perfect words
Tips for Rounding Up Your Invite RSVPs: Ensure a seamless response process
Wedding Invitation Wording Worksheet: Craft personalised invitations
How to Capture Memories: Preserve precious moments from your big day
Tips and Tricks for Your Wedding Reception: Celebrate in style
This guide is filled with inspiration and our best tips to guarantee your wedding stationery journey is as fuss-free and enjoyable as possible!
⭐⭐⭐⭐⭐
So handy to have! Has been my life saver trying to plan my save the dates & invitations! - Ellie
More information and examples for guest name wording can be found below, or visit our post "Wording Wedding Invitations".
How to put guest names on wedding invitations
Have I convinced you to get your guest names on your wedding invites? If so, here's what you need to do next: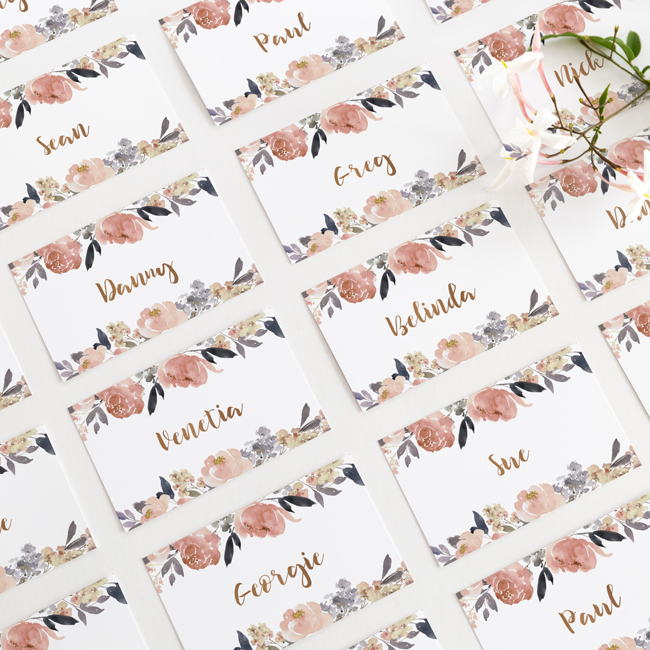 Typed please
All information submitted for design is to be typed. This is because there's a high chance of error if we are trying to decipher someone else's handwriting. This typed up list does not need any fancy formatting. In fact, we'd prefer it didn't - as where possible, we copy and paste the exact text we are supplied, straight into the design file. This minimises any typos at this end.
Plain Text List Required
What's plain text? I'm not talking about a special computer code or special program. Just the opposite in fact - we want a list of your guests' names that we can copy and paste with no fancy formatting. If you have purchased our guest list template you can even add your designer to the edit access and she'll be able to pull information directly from your list.
Example guest list for adding names to your wedding invitations
Examples:
Yes:
Amanda and Craig
Mum and Dad
Scott and Partner
Wally and Glenys
No:
Amanda and Craig
Mum & Dad
Scott
Scott's Partner
Wally Riach and Glenys Riach
Visit our post on wording wedding invitations here for examples on how to incorporate your guest's names into your invitation text.
Adding guest names for customising placecards or menus
We've covered off getting guests to sit in the right spot on our Seating Planning post here. Placecards, menus and escort cards all have the same requirements for adding guest names.
Just like your wedding invitations, keep it plain text and simple.
Submitting your seating plan diagram for your seating plan
There are lots of different options for seating plans, and they need to be done quite close to the wedding, so first of all, don't get overwhelmed. Keep it simple.
Many couples find it easiest to create seating plans in spreadsheets, and that's our preference too. Seating diagrams created in Word are harder to copy/paste from, as columns, tabs, text boxes or spacing is used that doesn't copy and paste well. Simple is perfectly fine. You can also share a plain text list. i.e.:
First line is the table name and subsequent lines are the guests at that table:
Table One
Amanda
Craig
Glenys
Wally
Scott
Table Two
Mum
Dad
Danielle
James
Supplying guest names and addresses for address labels
Just like naming your wedding invitations, keep it plain text and simple.