Your wedding invitations are your guests' first peek into your wedding day. But when are they getting this first peek? We are sharing our recommended wedding invitation timeline today. We've compiled our best advice and tips to answer that common question: "when are wedding invitations sent?".
18 months to One Year Out
Sending Save the Dates
What are Save the Date Cards?
Save the Dates are simply a postcard providing a heads up of your wedding date to your wedding guests. They indicate your names, wedding date and a general location for your wedding. They are a popular option for getting your wedding guests to start planning to attend your wedding, considering their travel arrangements, save up, time off work etc.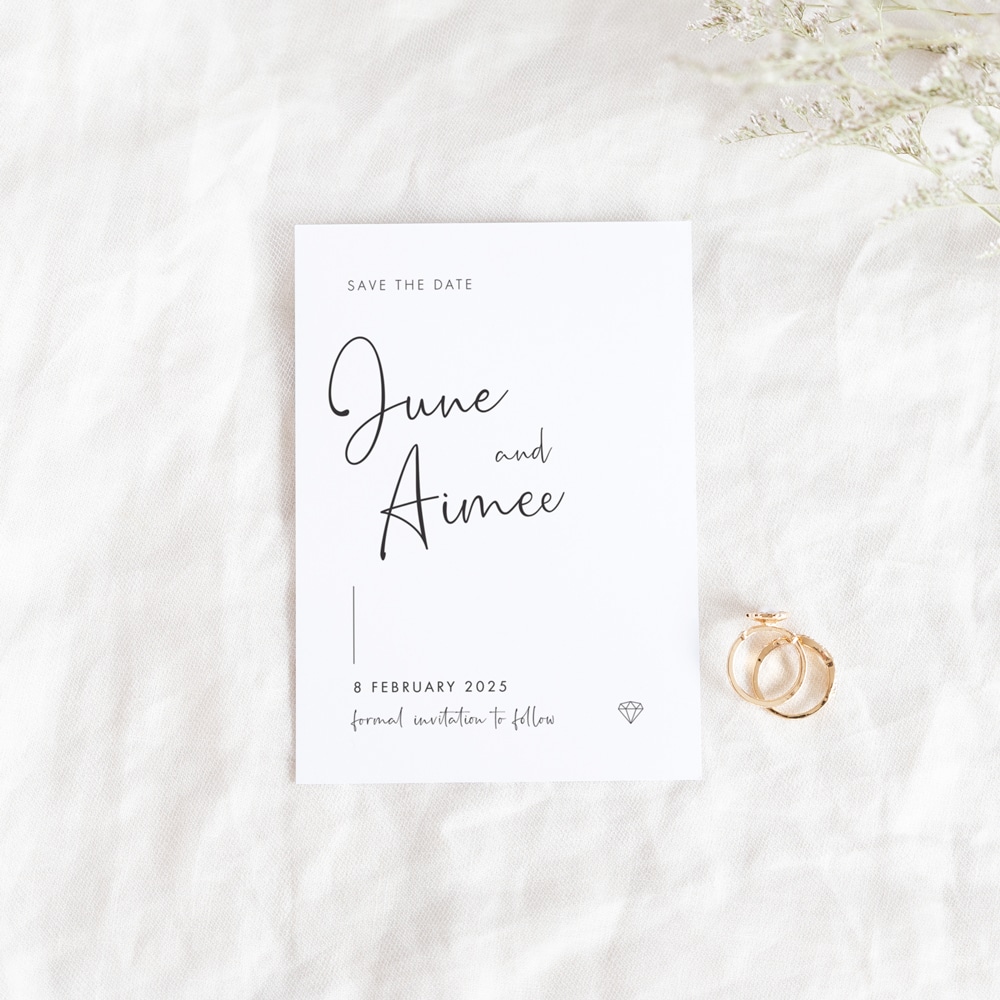 When do you send Save the Dates?
Ideally, you'll send Save the Dates between 18 months and six months before your wedding. One year is ideal. You need to strike a balance between too far out and guests forgetting or putting off making plans. Too soon and guests may have other commitments.
Claim your free Wedding Invitation Guide
Planning your wedding invitations and stationery can be a daunting task. But fear not, Be My Guest Design is here to demystify the process for you!
Introducing our comprehensive Wedding Invitation Guide—a 24-page booklet designed to address all your questions and concerns in one convenient place.
Save the Date cards: Make a memorable first impression
Wedding Stationery Timeline: Stay on track with ease
The Basics of Wording Your Wedding Invitations: Find the perfect words
Tips for Rounding Up Your Invite RSVPs: Ensure a seamless response process
Wedding Invitation Wording Worksheet: Craft personalised invitations
How to Capture Memories: Preserve precious moments from your big day
Tips and Tricks for Your Wedding Reception: Celebrate in style
This guide is filled with inspiration and our best tips to guarantee your wedding stationery journey is as fuss-free and enjoyable as possible!
⭐⭐⭐⭐⭐
So handy to have! Has been my life saver trying to plan my save the dates & invitations! - Ellie
Do you really need Save the Dates?
They are entirely optional, however they are important if your wedding is over a long weekend or many guests will have to travel/it's a destination wedding. If your budget is tight, skip sending these out - or email something. You can also compromise and only send them to family and close friends - the people you'd be absolutely guttered to miss on your wedding day. Having that extra bit of notice allows your wedding guests the best chance of being able to attend.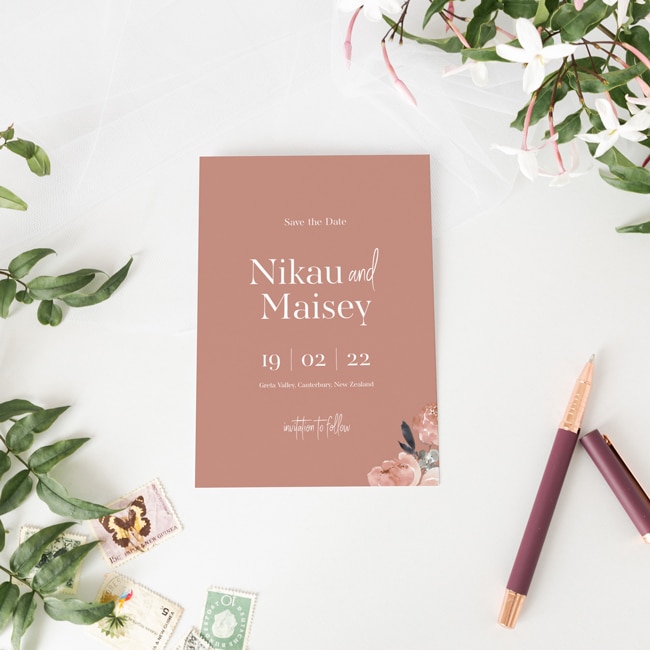 Do we have to send Wedding Invitations if we send Save the Dates?
Yes! A Save the Date is an indication you're invited, but it's not THE invite. Save the Date Cards don't include much detail because quite often you haven't narrowed down all the finer detail when you're that far out.
Check out our blog post on the 5 most common Save the Date mistakes we see all the time at Be My Guest.
Six Months before your wedding date
Wedding Invitations Timeline
When should I order my wedding invitations?
We recommend that you order your wedding invitations between four to six months before your wedding day. This gives you plenty of time to receive them from us and then to address the envelopes to send to your guests.
If you want to be extra-organised, order a sample pack of wedding stationery to help making your card selections.
Once you have placed your order online for your wedding invitations, you can expect delivery within two weeks. This allows time for you to check the wedding invitation draft we send you, for your invitations to be printed and then posted to you.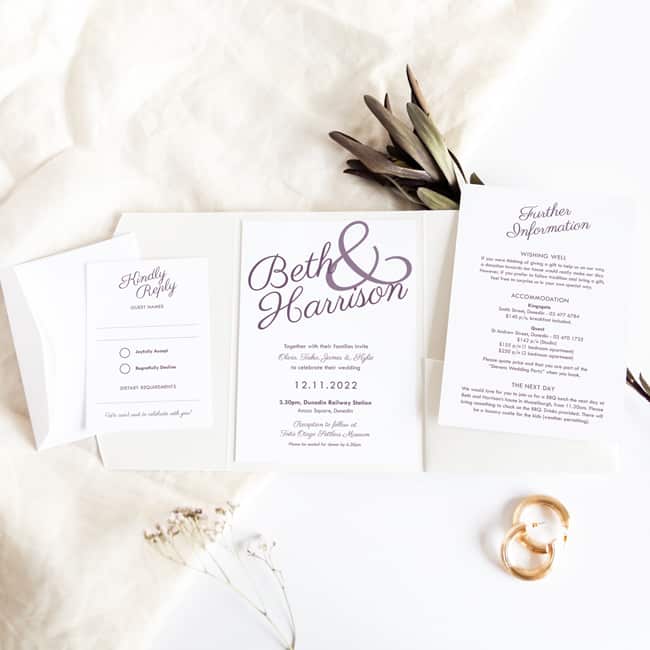 How long does it take to design our wedding invitations?
The entire process from design to revisions, finalising wedding invite wording, printing and posting your wedding invites takes around two weeks. You can expect to receive your digital mock-up within a couple of days of placing your order, to let you check it before we have your invites printed. Make sure you have a couple of people check the invites before you give your designer the final go-ahead to print it. These 'fresh eyes' will help you find any typos! Have someone ring any phone numbers or email the email addresses provided.
You can opt for a printed proof of your wedding invitations. This hard copy invitation is an actual sample of your wedding invitation, sent to you before you go ahead with printing the rest of your wedding invitations.
How fast can I get my wedding invitations?
If you are in a hurry for your invitations, the first thing to do is contact us. Chances are that we can organise a fast turnaround of your wedding invites, but only if we know your special requirements. Christmas/New Year holidays and courier delays can also affect turnaround time.
How far out do I set my wedding RSVP date?
Six weeks to a month before the wedding is plenty of time for final RSVPs. It is tempting to set an early RSVP date - after all, you won't be able to refine your wedding budget any further until numbers are confirmed! The issue is that if you set the RSVP too early (i.e. months out) guests may muck you around. They might not know what their work roster shifts is, or plans may change. More tips for setting your RSVP date here.
Three Months before your wedding day
Sending Wedding Invitations
When are wedding invitations sent?
The normal wedding invitation timeline is sending them between eight to twelve weeks before your wedding. It's not unusual to receive a wedding invitation anywhere between six months to two months before a wedding. But don't send them too early and risk have them getting lost. Nor send them too late and end up with half your guests not being able to make your wedding.
If you've sent a Save the Date, you can get away with sending your invitations a bit closer to the wedding. If you haven't sent a Save the Date, get your wedding invitations out sooner so guests can make arrangements.
One Month Out from your wedding
Following up on RSVPs
In an ideal world, your RSVP date is when every detail is tidied up, complete with a neat little bow. However, real life experience has demonstrated that wedding guests treat the RSVP date, at best, as a rough ballpark. So a month out from your wedding, touch base with family and friends who've omitted to RSVP, and chase them up.
Wedding Stationery
Once you've got the majority of your guest list confirmed, you can move onto planning your day-of wedding stationery items. We've collated our advice on this topic in a separate blog post, which you can find here: Wedding Stationery Timeline.