Getting organised for your wedding reception? One of the trickiest tasks is trying to figure out wedding seating. Where is everyone sitting for the speeches and meal?
Family politics, friend drama and ex girlfriends all have to be kept in mind. Sure, it's your day, but if you can do something to minimise the chance of drama taking away from the shine of your big day, you would, right?
With this in mind, allocated seating for your wedding guests is a smart move. In this article I'm sharing tips and tricks to create the perfect wedding reception seating plan with Be My Guest Design.
How many seats and tables do you need for your wedding guests at your reception venue?
To create a seating plan for your wedding, you'll first need to figure out how many people can sit per table, and how many tables you're having. This might be an easy exercise if you are getting married at a venue experienced at hosting weddings. They'll know how many people can fit at their tables, and how many tables can fit in their space. Or at least, how many tables you'll need for the number of guests you're expecting).
If you are getting married in a marquee or setting up hired furniture in a hall, it can be a bit more complicated. This is the point where a wedding coordinator, planner or stylist becomes invaluable, and is typically a core part of their offerings (see for example, Encore Events)
If you're determined to DIY, it's doable - just a little bit more planning, number crunching and fiddling round. Depending on the space, furniture and budget available, you might like to mix up your seating arrangements too (check out some ideas here). Different table shapes have their pros and cons. Long rectangular tables can fit a greater seated capacity into a space and it's easier for guests to talk. Round tables are a more traditional option and afford your guests more leg room.
How to map out your wedding reception's space
Mapping out your wedding reception's space will help you ensure all your guests have enough room to eat their meals and are comfortable. On the other hand, too much space can make things a bit awkward as well. A bit of preparation now will make setting up the day before a whole heap easier!
How can you do this? I recommend creating a floor plan to map out your reception. Go old school and sketch out a floor plan to scale with measuring tape, paper and pen. Or there are some software programs dedicated to the task.
At this point decide what sort of head table configuration you'll have, and who will be sitting there with you. Check out this post on Southern Bride for the different types of head table options you could choose from. Give your head table priority on the floor plan, and work your guest's tables around that.
Once you've figured out how many people can sit at each table, hopefully you've got enough spots for all the wedding guests you've invited!
Grouping your wedding guests
Hopefully your guests have sent RSVPs in promptly and you can get this done early...
Realistically you'll be chasing procrastinating guests.
Luckily, this step can be done without your guest list finalised. Go through a list of your guests (either handwritten or in a doc on the computer) and group each guest/couple into the following categories:
bridal table (i.e. who is sitting at the top table/you and your partner etc)

immediate family

your partner's immediate family

w

ider

family

your partner's

wider

family

mutual friends

work friends

family friends

any other categories that might make sense for you (church friends, sports associates etc)
You can either physically group them into separate lists, or just colour code each category. I also recommend you group couples together at this point, as they'll be sitting together. This doesn't apply for members of the bridal party that will be sitting at the top table, as they are (usually) seated separately.
Depending on how far away you are from getting the finalised guest list, you may be able to start grouping guests. Let's move onto how to do that now.
Arranging wedding guests into tables for the wedding reception
At this point I find using Excel or Google Sheets handy, as you can easily shift guests around between tables. If you're using the Wedding Planning Templates from Be My Guest you are all sorted! If you are still using pen and paper to compile your list, now the time to transfer it to the computer.
Start a fresh spreadsheet and at the top of each column type out your table names. This is not your final seating plan that the guests will read from. Don't waste time trying to format it all fancy or worrying about order yet. If you want to do this part with pen and paper, there is an alternative approach here.
Copy and paste your guest list into the worksheet from your guest list, so that you have the list of names handy and you are not switching back and forth between windows. If you have grouped them or colour coded them in the previous step, then copy that formatting over as well.
Underneath each table name, leave the number of cells empty that the table can fit. In the next cell below, write down how many people can fit at that table. You'll have something that looks like this:

You are going to cut and paste your guests from the guest list to under each table. The Windows keyboard shortcut for this is ctrl X to cut, and ctrl V to paste). 'Cutting' instead of copying means that your list of guests will get smaller as you allocate their seats at a table. Start with the easy one - that's the top table, aka the head table or bridal table.
Next, do tables holding your immediate family and your partner's immediate family. Depending on the dynamics, guests might need to be split over a couple of tables. If you still have room to seat people at the family tables, you could seat the bridesmaid/groomsmens partners, close friends of the family that don't know anyone else, or favourite extended family members.
Next move onto compiling tables of wider family, then friends, and so forth. In addition to seating guests by how you know them, you can also consider their age, interests, and backgrounds. Try to make every guest feel comfortable with a mix of familiar and new faces at each table.
If you want to avoid drama and seat certain people away from others, then put them at separate tables first and work round them. In the scheme of things, if you get it a bit wrong, it won't matter. They'll only be sitting there for the evening!
There will be lots of shifting round and back and forth. It is a giant Tetris puzzle and a process of elimination.
Conveying your seating arrangements to wedding guests at the reception
Once you have figured out who will be sitting where, your next step is deciding how you will communicate to your guests who is sitting where.
Your options for this are:
You can use a seating plan, placecards, or both.
Using just a seating plan means guests refer to the chart, then pick a seat at their allocated table. Just using placecards means your guests will have to look around each table till they find their name. If you use both, your guests can see what table they are at. Then when they find their table, the placecard will direct them to their allocated seat. You can use a placecard, or a menu with individual guest names printed on them, or even named tags tied to their favours.
It is your personal preference and/or budget that will determine what option you choose. My recommendation is having a seating plan at minimum, as this acts as a focal point for arriving guests and manages the flow of guests through the room. Imagine the overwhelm of being a guest trying to find their seat in a large room of tables.
Designing your wedding seating plan and placecards
This is the point where Be My Guest Design can come in and take some of the stress off! Designing your seating plan is as simple as browsing our range of predesigned seating plans, then placing your order (here's a wedding stationery timeline for when you need to do that).
When you are placing an order for a wedding seating plan, you need to decide what sort of sign type and size. Here's some guidelines:
Seating Chart Type
There are a number of options available for printing your seating chart. The most popular is to receive your wedding seating plan printed onto canvas and mounted/stretched on a frame. This makes them suitable to place on an easel or hang on the wall.
Another option is for a board-type seating plan. These are lightweight but stiff, so suitable for an easel or on a hanging frame (like in the picture below)
You can also elect to have your seating plan printed onto high quality matt synthetic paper. These are delivered rolled into a cardboard tube. These seating plans are suitable to frame or pin to a wall.
We also design and print seating plans with the tables separated out onto smaller pieces of card. You have a range of card options to select from when picking this style of seating plan.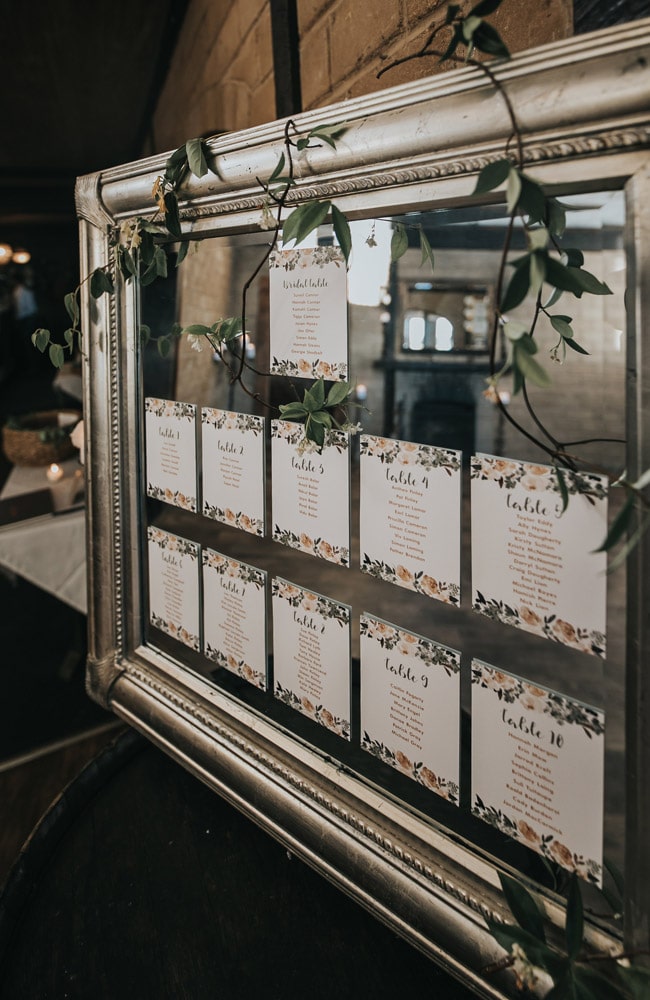 What size seating plan do I need for my wedding?
One of the most common questions we receive is "what size seating plan should I use for my wedding?". The answer is typically: "whatever is going to work in the space that you have". Think back to the primary purpose of your seating plan. It is to direct wedding guests to their seats. The seating chart needs to be easily readable and large enough for several people to read at once while crowding around it as they enter your wedding reception.
When we are designing your seating plan, we adjust and tweak the design to fit as many or as little guests as possible. Sometimes this means accommodating guests with reaaaaaaallllly long names, like if you decide to include both first and last names).
Still want some guidance on size? A1 and A2 sizes are by far the most popular. A2 is perfect when your seating plan is going onto a tabletop easel. A1 works perfectly if you're using a floor standing easel. A0 is fine in big spaces… A3 can work in other spaces, but you wouldn't want to be having a big guest list. (Here's the dimensions of 'A' sizes if you're curious.)
I've also recorded a simple video showing the different sizes and material options, so check that out too. You can find it here:

Laying out your wedding seating plan
The spreadsheet you've created in the steps above is perfectly adequate to send through to us. We love something uncomplicated! Then we can copy and paste, which ensures we avoid any typos (we are human beings after all).
You can choose to have your seating plan laid out by table (most common) or alphabetically. Alphabetically is good for really large weddings (200+ guests) with lots of tables. You either sort by first name, or by last name. Sorting by last name means that guests can
Once we've designed your seating plan, we send you an electronic copy to check over. When you give us the ok, we'll send it off to print with our NZ based suppliers.
How long will my seating plan take to be printed?
It's important to allow as much time as possible. Here's a wedding stationery timeline. For card and photo paper prints, allow two weeks for design, printing and delivery. For canvas and board seating plans, allow up to three weeks (as the canvas assembly process takes a little longer).
Allowing plenty of time ensures you receive your seating plan and other stationery pieces well before your set-up day. Then you can relax and know you've got everything you need for your wedding day).
Faster turnaround times are possible, and we're aware that these are important, so all seating plans are given priority. However if it's a tight turnaround, urgency fees apply. We pay extra to bump your seating plan up the print queue ahead of other clients. Our designers work extra time to get your design done sooner, and shipping is upgraded. All to ensure you get your stationery in a stress-free timeframe!
Please note, timeframes mentioned exclude weekends and public holidays. It pays to be organised, especially around Christmas/New Years.
How to get wedding place names designed
If you are using placecards, personalised menus, or tags, you simply send us a list of your guest names. We will send you through a draft set of placecards for you to double check.
You can occasionally have last minute guests, so we suggest spare cards with no guest names included. This allows you to handwrite any late guest's names on.
Tips for setting up your stationery for the wedding reception
When you get your order, open it up straight away and check everything is correct. If there are any issues it pays to know about them in plenty of time! If you have ordered a canvas seating plan, it is supplied ready to go. You can pop it on an easel or up against a wall. You can even attach it directly to a wall. I recommend using these strips - they're quick, easy and come of cleanly. The canvas prints are shipped wrapped in bubble wrap. After you've opened up your seating plan for a double check, re-wrap it into the bubble wrap so it is kept in mint condition before the wedding day.
If you have ordered a photo/vinyl print, it will arrive rolled in a cardboard tube. You will need to frame it or pin it to a wall. You can buy frames from the Warehouse or Kmart that perfectly fit the A1 - A3 size plans that we offer. After your wedding, you can reuse the frame for some of those beautiful wedding photos you're going to have!
Doing a pegboard or similar? Your individual guest plans are pretty much ready to go straight out of the packaging. Please do a test run to make sure you have everything you need, that the size fits well and your pegs or clips will hold them.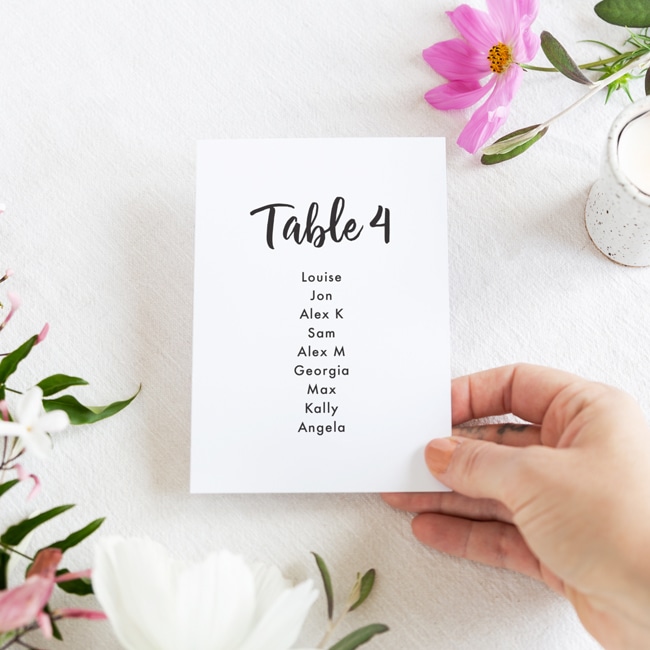 Finally, I suggest you sort your guest's place name cards into the tables they'll be sitting at. Put them in ziplock bags or similar with the table number. Then, during setup, you won't have to shuffle through the whole stack of place cards. This gives you a chance to check if any are missing in lots of time too.
I'm sure this guide has given you some tips and tricks for compiling your wedding seating plan, so do go ahead and check out our range of wedding seating plans available. If you have any other questions then please get in touch, we'd love to help!