A beautifully designed wedding invitation is your friends and families introduction to your wedding. If it inspires your fiancé's mates to actually RSVP, then that's a huge bonus too!
Your Save the Date cards and Wedding Invitations build anticipation for your big day. All the important details get shared – whatever 'important' means to you (like, it's black tie so that means NO jeans Uncle Jim).
Your wedding invitations and day-of stationery pieces are personalised especially for your wedding. Details are added, design elements tweaked and colours changed to suit your needs.
Claim your free Wedding Invitation Guide
Planning your wedding invitations and stationery can be a daunting task. But fear not, Be My Guest Design is here to demystify the process for you!
Introducing our comprehensive Wedding Invitation Guide—a 24-page booklet designed to address all your questions and concerns in one convenient place.
Save the Date cards: Make a memorable first impression
Wedding Stationery Timeline: Stay on track with ease
The Basics of Wording Your Wedding Invitations: Find the perfect words
Tips for Rounding Up Your Invite RSVPs: Ensure a seamless response process
Wedding Invitation Wording Worksheet: Craft personalised invitations
How to Capture Memories: Preserve precious moments from your big day
Tips and Tricks for Your Wedding Reception: Celebrate in style
This guide is filled with inspiration and our best tips to guarantee your wedding stationery journey is as fuss-free and enjoyable as possible!
⭐⭐⭐⭐⭐
So handy to have! Has been my life saver trying to plan my save the dates & invitations! - Ellie
Help with Wedding Invitation Wording & Logistics
Figuring out details for your wedding invitations can be overwhelming.
Our experienced NZ designers are here to help, and act a fresh set of eyes, an advisor and cheer-squad. We've got tactful wording ideas here to tackle any guest dramas upfront (like Uncle Jim's jeans, requesting cash without sounding rude, or asking that the kids stay at home).
Selecting the perfect wedding invitation design
The only mail that seems to arrive is junk mail and bills… so when you check your letterbox and find a wedding invitation, it's a special occasion!
Wedding invitations set the scene for your friends and family. The style, colours and level of attention to detail convey what they can expect from your wedding day, but should also reflect your style and personality as a couple. RSVP inserts and extra information cards contain details to help wedding guests organise attendance.
Check out our full range of wedding invitations here.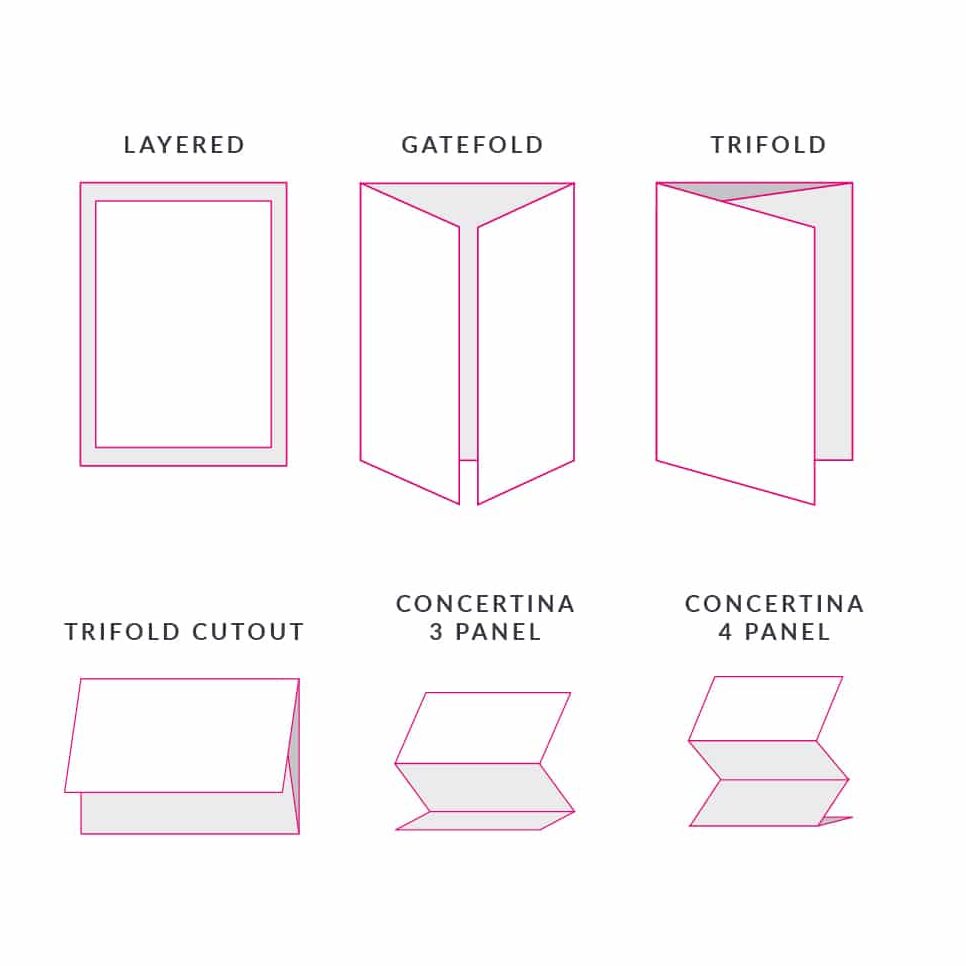 Ordering wedding invitation samples
This perfect day is sitting in your imagination – the invitation is your first chance to express this vision to your guests. Choosing the perfect wedding invite is exciting but nerve-wracking. You want to ensure your wedding stationery perfectly matches your wedding theme and looks good!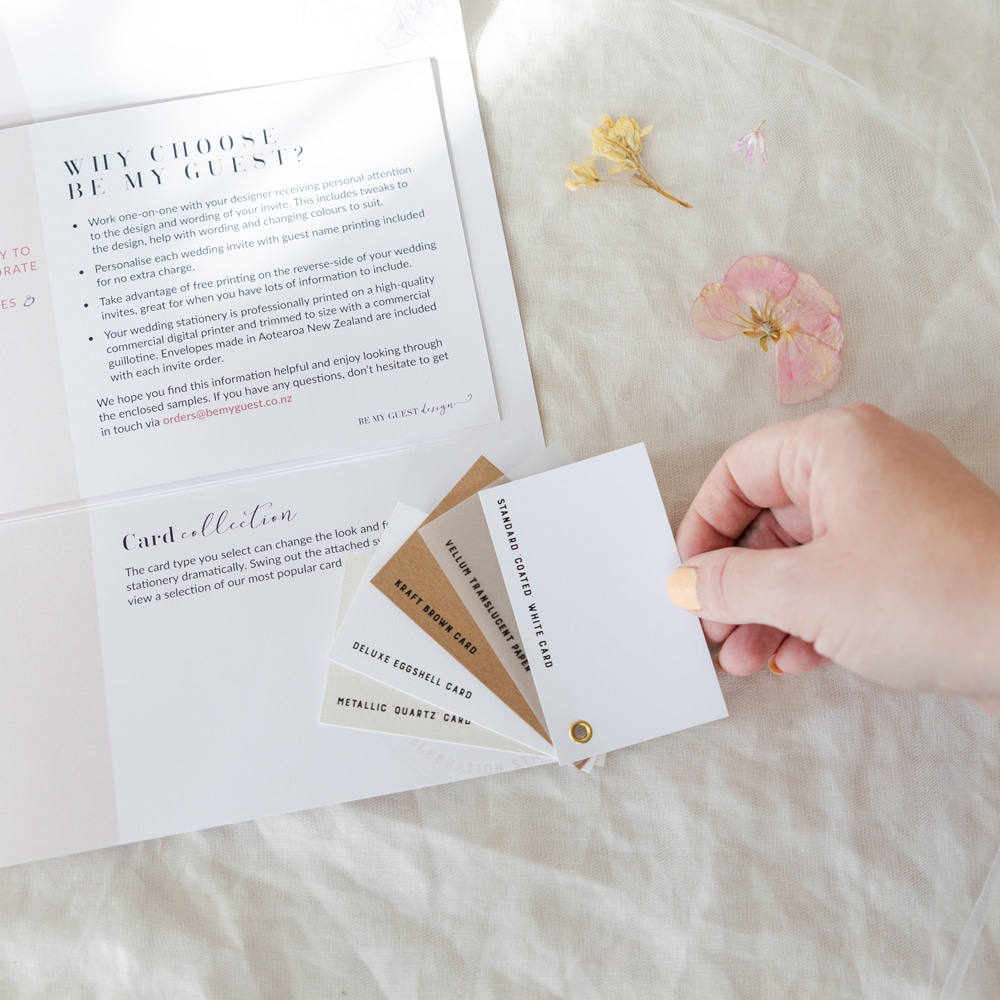 Ordering a Be My Guest Wedding Invitation Sample Pack lets you see and feel what your invitations will look like, helping you choose the right one and avoiding expensive mistakes. Nothing beats seeing the print quality, card and colours of our wedding stationery for yourself.
You can request specific invitation designs and we will also send a range of our most popular card swatches.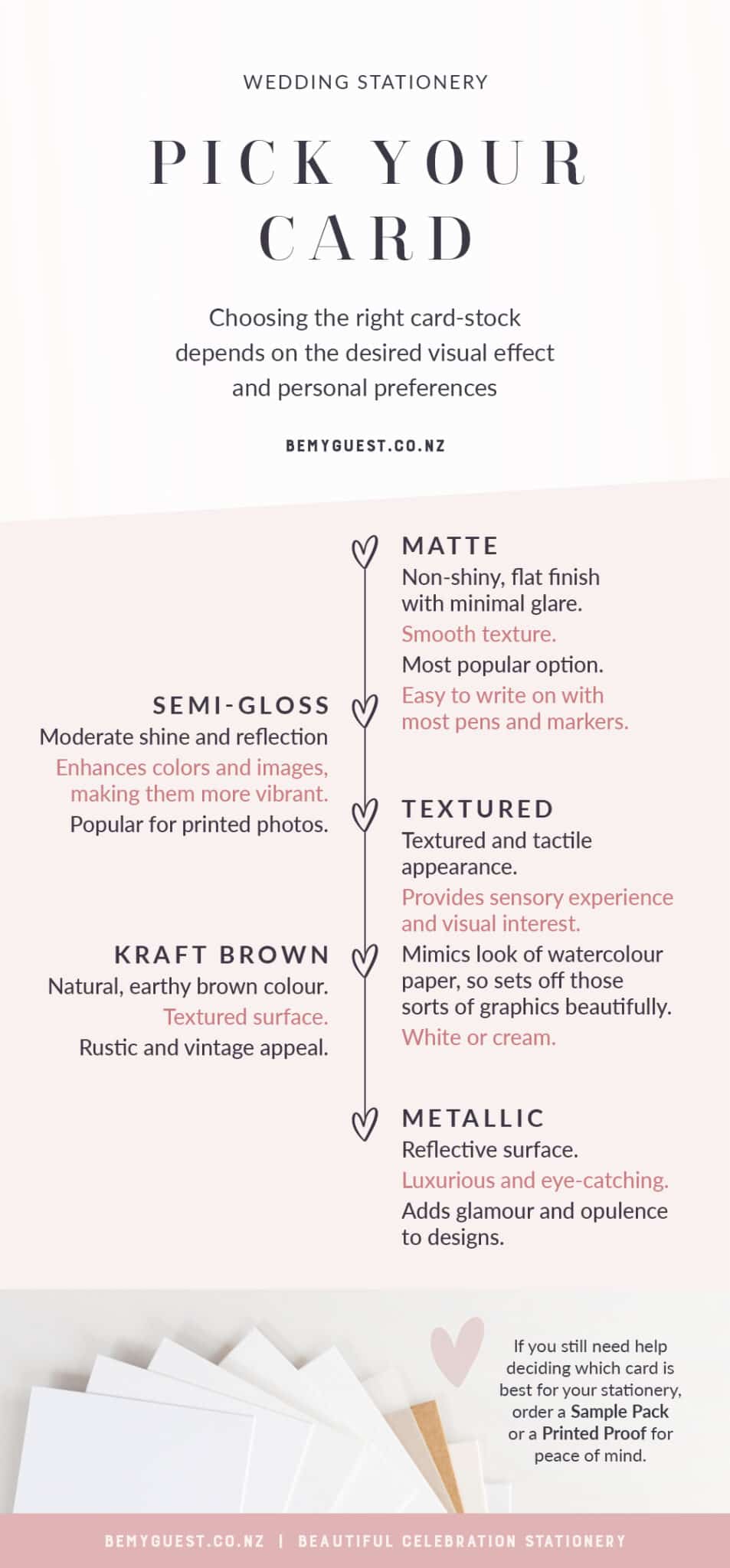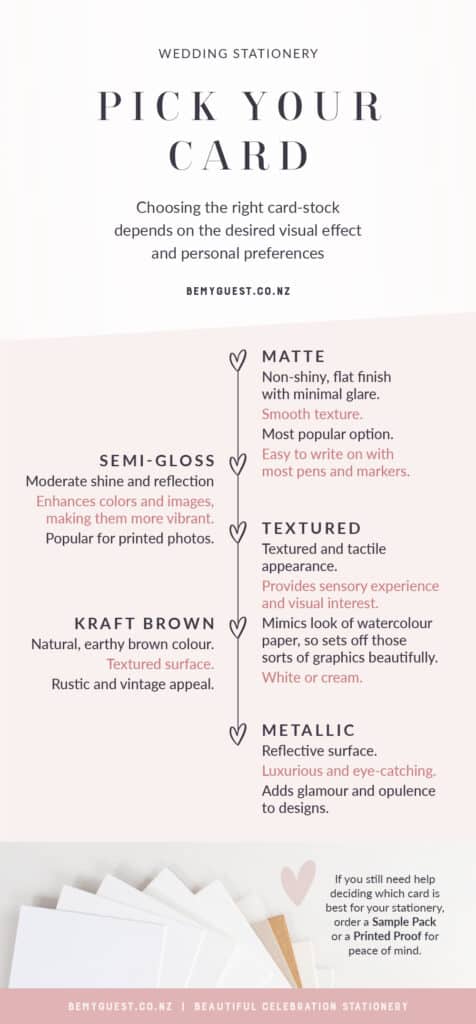 Peace of Mind with a Printed Proof
If you'd like to receive a hard copy of your invitation, prior to approving it for printing, then order a printed proof. This allows you to see a physical copy of the invitation, check the colour is what you expect, and the card is the right fit for the vision you have in mind.
For those seeking an extra layer of confidence and assurance, we recommend adding a Printed Proof to your order. This is free for invite orders over $300* (simply add the Printed Proof product to your cart and use the code printproof).
Why opt for a Printed Proof instead of relying solely on the electronic version? While electronic proofs provide a close representation of image colours, they are not exact. Electronic proofs primarily serve for content and layout purposes. Computer monitors or laser printers can only approximate colours, and actual colour appearance may vary due to differences in colour, contrast, brightness settings, and surrounding lighting conditions on each computer.
*orders over $300 will receive a $15 discount when using the coupon code printproof at checkout. This is exclusively for customised wedding invitations, save the dates, engagement party invitations and thank you cards (for weddings and babies). A charge of $15 applies for the purchase of second and subsequent proofs, when ordering other items (menus, order of service cards) and/or smaller orders (less than $300).
Custom Designed Wedding Invitations
Have you been dreaming of stationery that fits your day just right – but haven't found "the one" yet, despite hours of scrolling Pinterest.
Or maybe you have a special idea in mind and need someone to translate it to reality?
We've got years of experience in designing for a wide range of people and their special events, so our bespoke packages incorporate all the essentials. Extra revisions, printed samples, deluxe envelopes and an overnight courier once you've locked in your design.
Ensure you've had a thorough look through our designs, as you can pick an existing design and tweak the colours and fonts to suit. You still receive the same great service and attention to detail as a custom designed client, but with a faster turnaround.
Save the Dates
Save the Dates provide a heads up of your wedding date to your wedding guests. They indicate your names, wedding date and a general location for your wedding.
Perfect for encouraging your wedding guests to start planning to attend your wedding – considering their travel arrangements, save up and arranging time off work.
Also known as "Save our Date Cards", these are sent out around six months before your wedding invitations. Get them out between 18 months to 6 months prior to your wedding (more information on sending Save the Date Invitations here).
Look through our full range of Save the Date Cards here.
Day-of Wedding Stationery
Set the vibe for your wedding day with our range of beautiful signage and stationery. Day-of stationery provides the finishing touches to your event.
Some of the items we can assist with include:
Not only does the stationery contribute to the vibes and style of your event, but also provides important information for your guest's experience. Using these pieces also marks the significance and formality of your day.
Customisation Options
Your designer will add your details, adding or removing information as requested, and tweak the design to your preferred wording and colour scheme.
Personal attention to design & wording
There are dozens of designs to choose from. Colours, layout and wording details are changed to suit your preferences perfectly.
Your personal designer will help ensure your invitation cards say just the right thing, guiding you on appropriate etiquette if needed. We are here to help!
Fast turnaround
Wedding Invites
You should allow around two weeks for your wedding invitation process, and about a week for your Save the Dates. This time encompasses the design process, any revisions you request, printing and courier delivery. More info here.
We recommend placing your order at least four to six months prior to your wedding, to give your guests enough notice. A detailed wedding invitation timeline is available here.
Day-of Stationery
As wedding stationery is a time sensitive item, it's important to allow us as much time as possible. This ensures you receive it in plenty of time (so you can relax and know you've got everything you need for your wedding day). We prioritise orders by event date, and look after most printing in-house so your day-of items can be ready ASAP.
Please allow three full weeks to allow plenty of time for design, printing and delivery of your wedding day stationery. An urgent/express service is available for an additional charge. For more information, check out our detailed wedding stationery timeline.
Check a draft before printing
You'll receive an electronic draft mockup of your wedding stationery before it goes to print – so you can see how everything looks, and request any changes or tweaks. Up to two rounds of revisions are included.
Professional Printing
All of Be My Guest Design's wedding stationery pieces are professionally printed on a high quality, colour calibrated commercial digital production printer in Mosgiel, New Zealand.
Printing our stationery in-house allows us to control quality and prioritise turnaround times.
Our large format signs and stickers are printed and cut on our wide-format inkjet solvent printer-cutters. Canvas seating plans are printed at a specialist trade printer in the Hawke's Bay and sent directly to you.
Guest Name Printing On Invitations
If you've got terrible handwriting or want to personalise wedding invitations with guest names printed directly onto the invite, you can! This optional service comes at no charge for wedding invitations, or at a small additional cost for Save the Dates/Engagement Party Invitations/Menus.
More information on adding guest names to invites is available here.
Reverse Side Printing
Printing on the reverse side of your wedding invitations and any RSVP/insert cards is included if you want it – at no extra charge.
Reverse side printing is available for a small additional charge for Save the Dates, Engagement Party Invitations and Menus.
Matching Envelopes
We are really proud that our high quality envelope range is New Zealand made.
Each invitation comes with the choice of white, kraft envelopes or black envelope. Depending on the size of your invite, we have gold, silver and other coloured envelopes for a small additional cost.