A sentimental keepsake vow print, a pop of colour for your lounge or an inspirational quote. Each art print in the Be My Guest range is designed and printed here in New Zealand.
Decorate your space with meaningful prints
Pick your favourite design and give us the details. Your designer will draft your print, making tweaks to suit your preferred text and colour changes if necessary. Then once you've confirmed it's perfect, we'll print it onto one of our luxe print options, package it perfectly and get it out to you ASAP.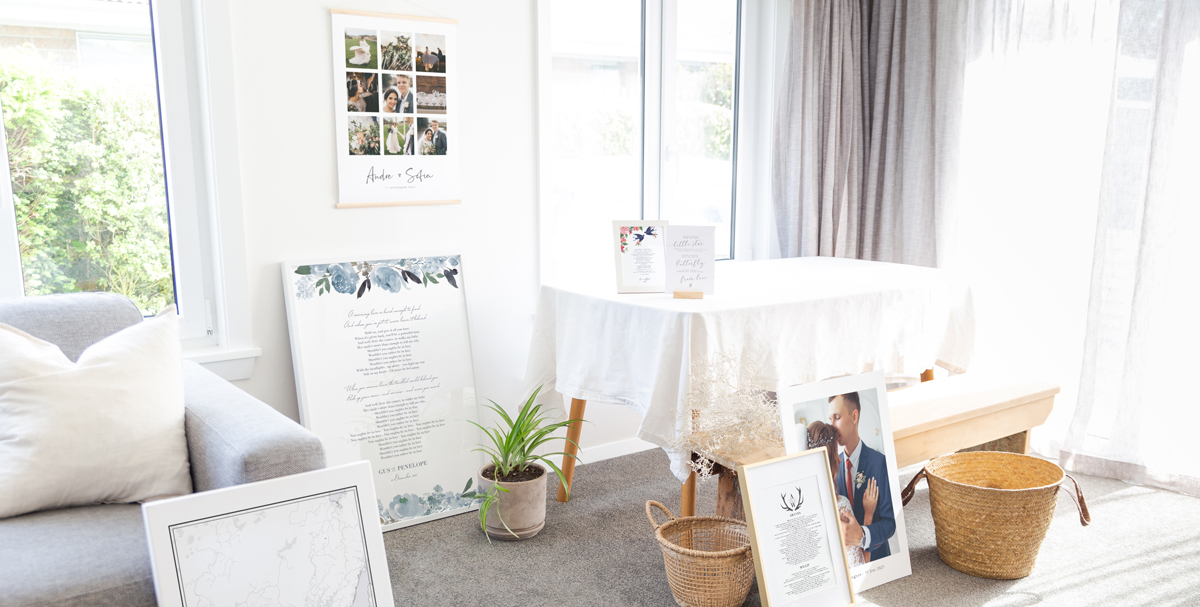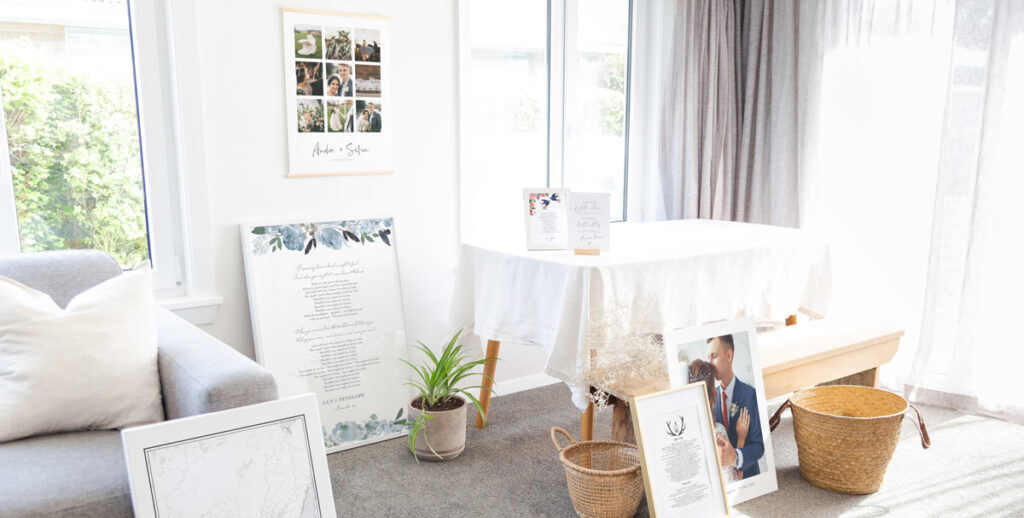 Art Print Sizes and Options
You can choose from a range of different sizes for your wall print. We specialise in large format art prints, so our sizes go from small A4 (a standard piece of paper) right up to A0 size.
The options don't end there. Choose from a durable synthetic print to be framed, get it mounted on a board, or opt for a canvas print.
All options are perfect for keepsake prints of a high quality, made to last, from right here in New Zealand.
How long does it take to get my wall art prints?
We prioritise orders by event date, so if you are ordering for a specific date please let us know. Most printing is done in-house to make it as quick as possible.
It's recommended to allow two-three full weeks to allow plenty of time for design, printing and delivery of your art prints. There is an express option that can be selected to reduce this turnaround further. More information on turnaround times is available here.
Art Prints to Commemorate a range of milestones
Weddings: Vow & Lyric Prints
The perfect wedding anniversary gift! Celebrate your wedding anniversary with a piece of art that commemorates your wedding day. Your wedding vows (or any text you'd like – such as your first dance lyrics, or a wedding reading) are transformed into the design of your choosing. For an extra-special art print, choose one that matches your Be My Guest wedding stationery.
Babies: Photo and Birth Milestone Prints
A new addition to your family is certainly something to celebrate. Our baby art prints make the perfect addition to your nursery, as a gift for new parents, or a gift to the grandparents.
Note you can also find our range of baby birth announcement cards here.
Photo Prints
Photo prints on your wall are a special keepsake gift for your loved ones. A wedding, baby or a favourite family photo can make a perfect piece of art for your home.
Decor & Quote Prints
More than just a pretty picture, these wall art prints enrich your soul. Meaningful quotes and sayings add connection and colour to a space.