Description
Signs are an important part of your event – ensuring guests find their way, supplying information, setting the tone and adding to the decor.
NZ Made Wedding Signs
All our signage is designed in Mosgiel, 20 minutes south of Dunedin, NZ. Our canvas signs are printed and shipped from a specialist printer in the North Island, and the rest of the sign types offered are printed in-house and shipped directly from Be My Guest in Dunedin.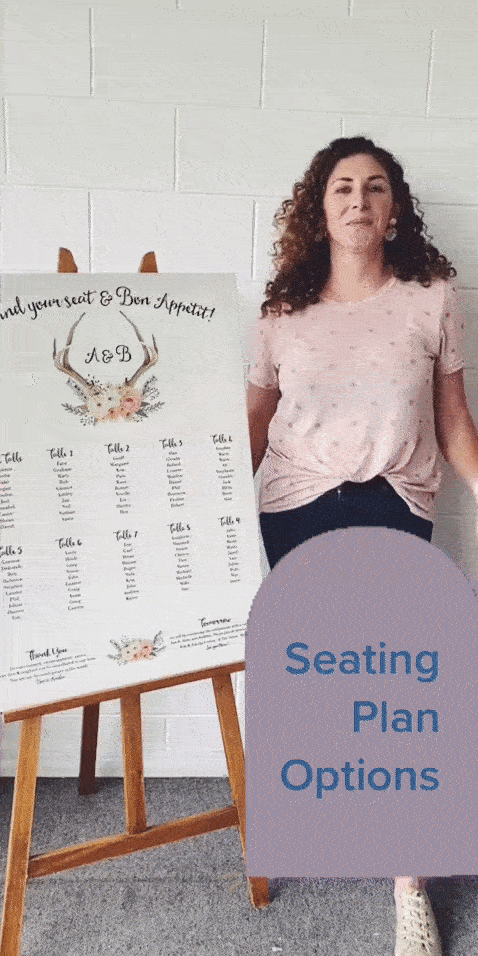 Wedding Signs Size Guide
Signs can be produced from a teeny A5 (1468x210mm) all the way to a huge A0 (841x1189mm). The most popular size is A1 (594x841mm).
The tips for working out what size seating plan you will need apply in this situation too. I.e., taking into consideration where the sign will be sitting and how far away guests will be viewing the sign from.
Wedding Signs: Large Format Printing Types
Any size selected that is A2 or larger is considered 'large format' and is printed with specialised machinery and processes.
You can select from a range of different sign printing options to suit different budgets and display styles (i.e. whether you want to display your sign on an easel or something smaller that you can frame).
Canvas Sign Printing
Printed onto a lightly textured canvas which is then stretched over a 40mm frame. These have a seamless, sleek, modern look and can be propped onto an easel or hung on a wall.
Board Sign Printing
Printed onto an adhesive vinyl which is mounted onto 5mm thick foamboard. These are a lightweight option that can be propped on an easel or hung from a sign stand.
Poster Paper Sign Printing
Printed onto 220gsm synthetic poster paper. This option needs to be framed, then you can pop your framed print against a wall or on an easel. Tip // pick a frame that you'll reuse for your wedding photos!
Smaller Format Card Choices
All of the 'card' options are available from A3 size and smaller. These come printed on your choice of cardstock with a weight of 300gsm.
If you have purchased wedding stationery through Be My Guest, you should pick the same card to match the rest of your stationery pieces. Order the wedding invitation sample pack for physical swatches of the card options on offer:
Electronic Wedding Signage (Digital PDF File)
If you're in a rush and don't want to risk the couriers, or perhaps you have access to a large format printer. Whatever the case, we are able to assist with an electronic version of your signage with a turnaround of 2-3 working days.
Wedding Sign Turnaround
The turnaround for signs depends on the printing method as each type has different production times. Check out our wedding stationery timeline for when you should order your signs and other stationery items.
Canvas Signs take the longest to produce – we recommend allowing three weeks for the design, printing and shipping of these. Large Format Boards, Poster Paper and Card Signs take around two weeks for design, printing and shipping. We are able to turnaround Electronic PDF Signs within 2-3 working days.
If you need your Sign urgently, you can submit it as a rush order.
I like this design but I want to change colours/customise it, can I?
Yes! Simply complete the "Customisation" field with your required changes to the colours, layout and wording of your sign. One of our designers will be in touch with a draft before it gets printed (within a couple of working days of your order).
Wedding Sign Options
Seating Plan Sign/Welcome Sign Discount
When you order a large-format seating plan, you can add a matching sign in the same print style at a discounted rate, as we can package your signage together and save some postage! By default this is a "Welcome" sign, but let us know if you'd like something different on your extra sign (like an 'Order of Events' or 'Menu' sign). If this sounds good to you, then navigate to the Seating Plan design you are interested in, then select that option while placing your order.
Matching Wedding Stationery
On the Be My Guest Design website, you can find matching Placecards, Guestbooks and Thank You Cards to match your wedding signs.
Plus optional extras for a coordinated look, like: