Signage is an essential component of any event, as it helps guests find their way, sets the tone, complements the décor, and conveys information about the day. Moreover, signs are significant as they mark the formality and importance of the occasion.
Tie your wedding invitations into your day-of stationery with a matching seating plan, welcome sign or other signage. There are various printing options to choose from based on your budget and display style, whether you prefer an easel or a smaller, framed sign.
Types of Signs
Seating Plans
The right seating plan for your will depend on where you're putting it, how long you've got to get it printed, the look you're going for and your budget.
Naturally, most of the seating plans we design are for wedding receptions, since couples love to match their wedding stationery to their Be My Guest designed wedding invites, but our seating plans are also used for formal dinners at school reunions, sports reunions and corporate events.
For advice on figuring out which guests will sit at which table, visit our Epic NZ Wedding Seating Planning Guide.
Welcome Signs
Welcome signs reassure your wedding guests that they're in the right place. They help set the vibe of the day, whether it's styled as a formal welcome sign, a relaxed quote welcoming your guests or something in between the two.
Order of Service Signs
Order of Service signs (also known as an Order of Events or Program) list out a timeline of your day. This shares what's happening and when, adding to the guest experience.
Sign Printing Options
You can select from a range of different sign printing options to suit different budgets and display styles (i.e. whether you want to display your plan on an easel or using a photo frame).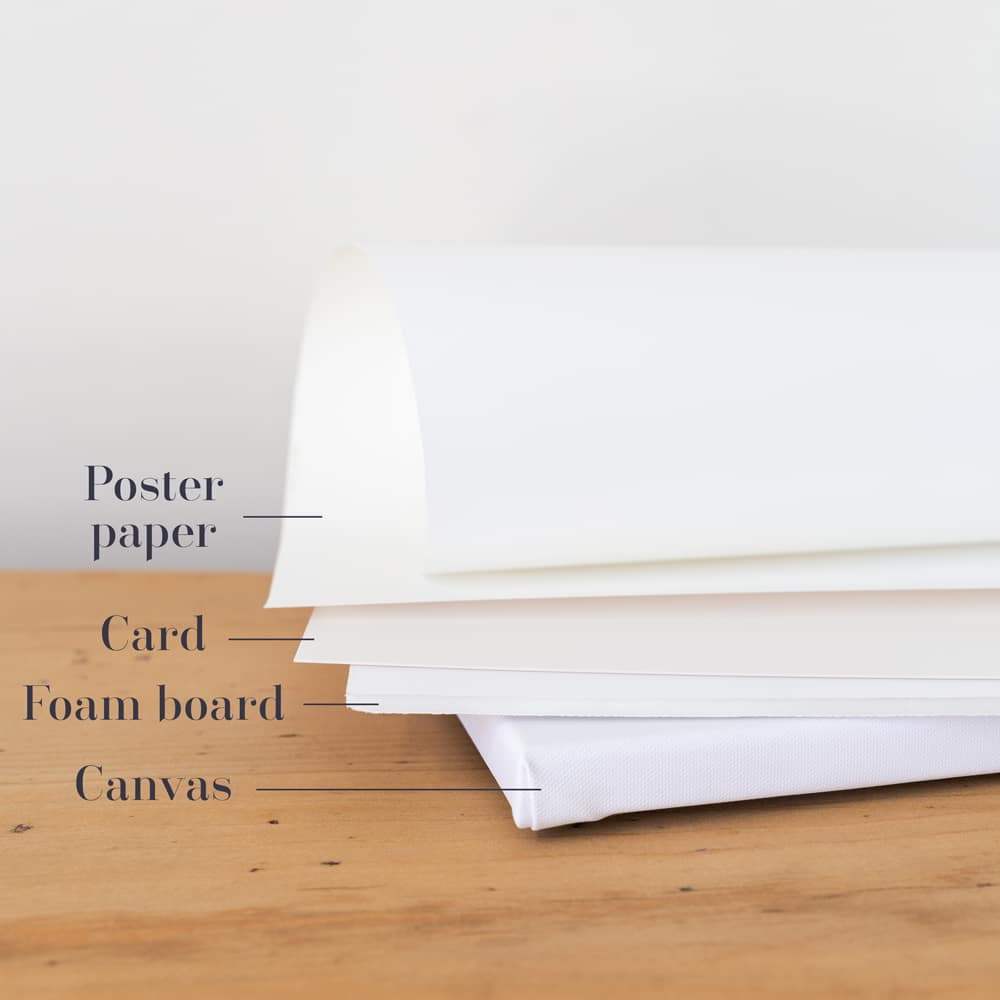 Each of the printing types comes with its own advantages and drawbacks. Read through the summary of each of the printing methods below to figure out which one works best for you:
Canvas Signage Printing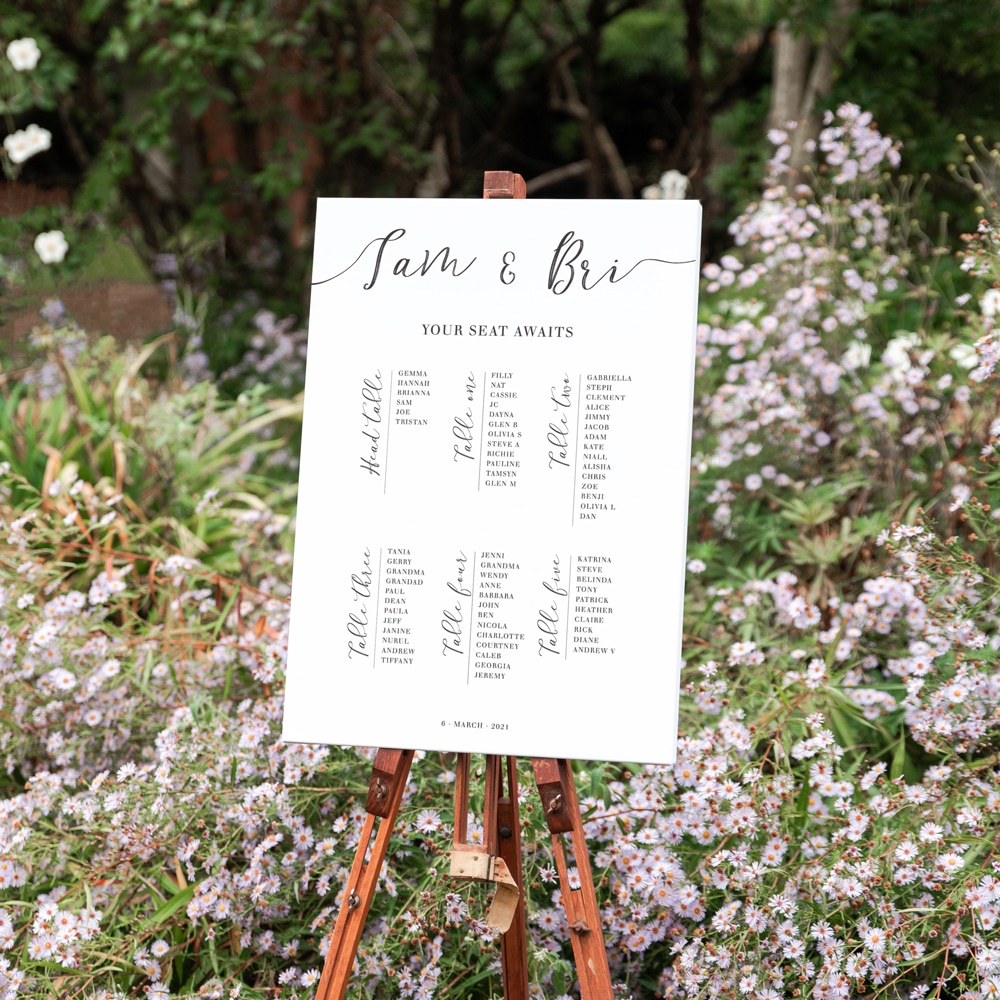 Stretched canvas signs are an elegant, timeless option for wedding day signage or keepsake prints. Your artwork is printed directly onto a lightly textured canvas, which is then stretched over a 20mm frame. Suitable to place on an easel or hang on your wall. This gives the canvas seating plans a seamless, sleek and modern look.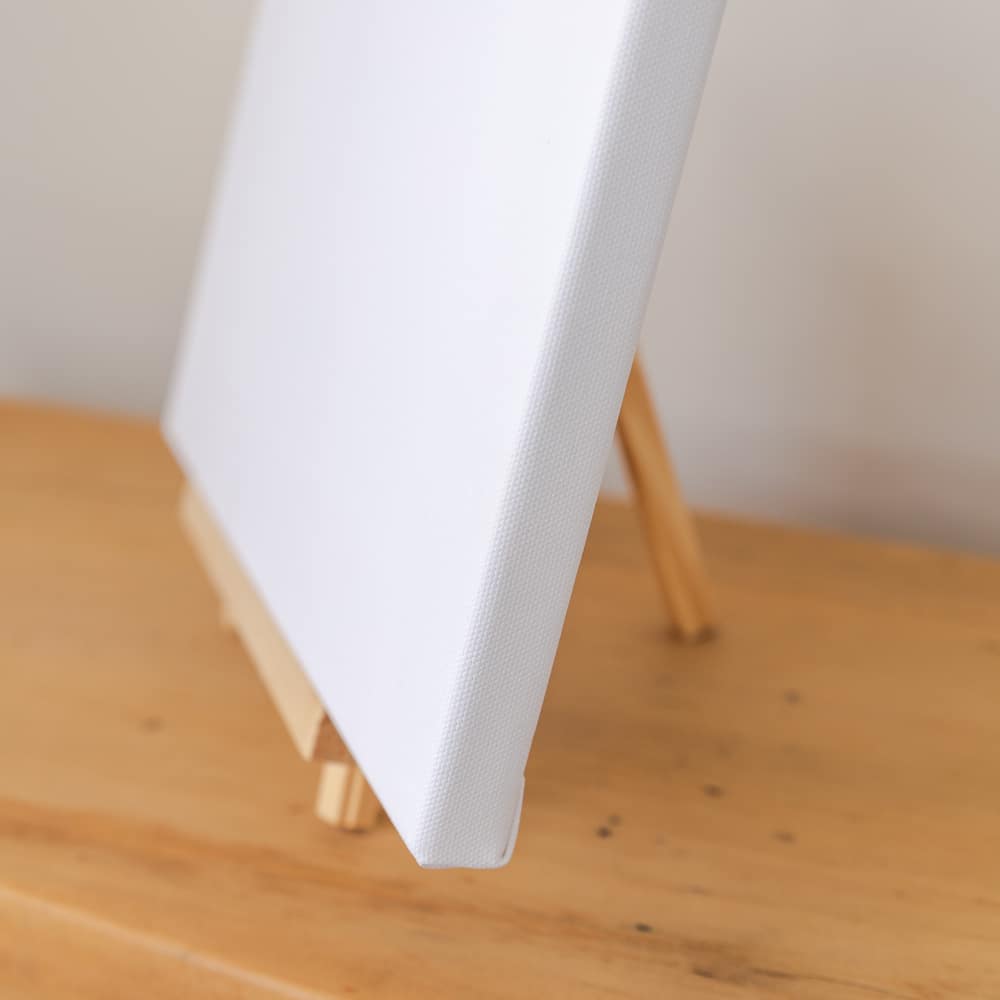 This type of seating plan takes the longest to be printed – allow up to three weeks for design, printing and shipping.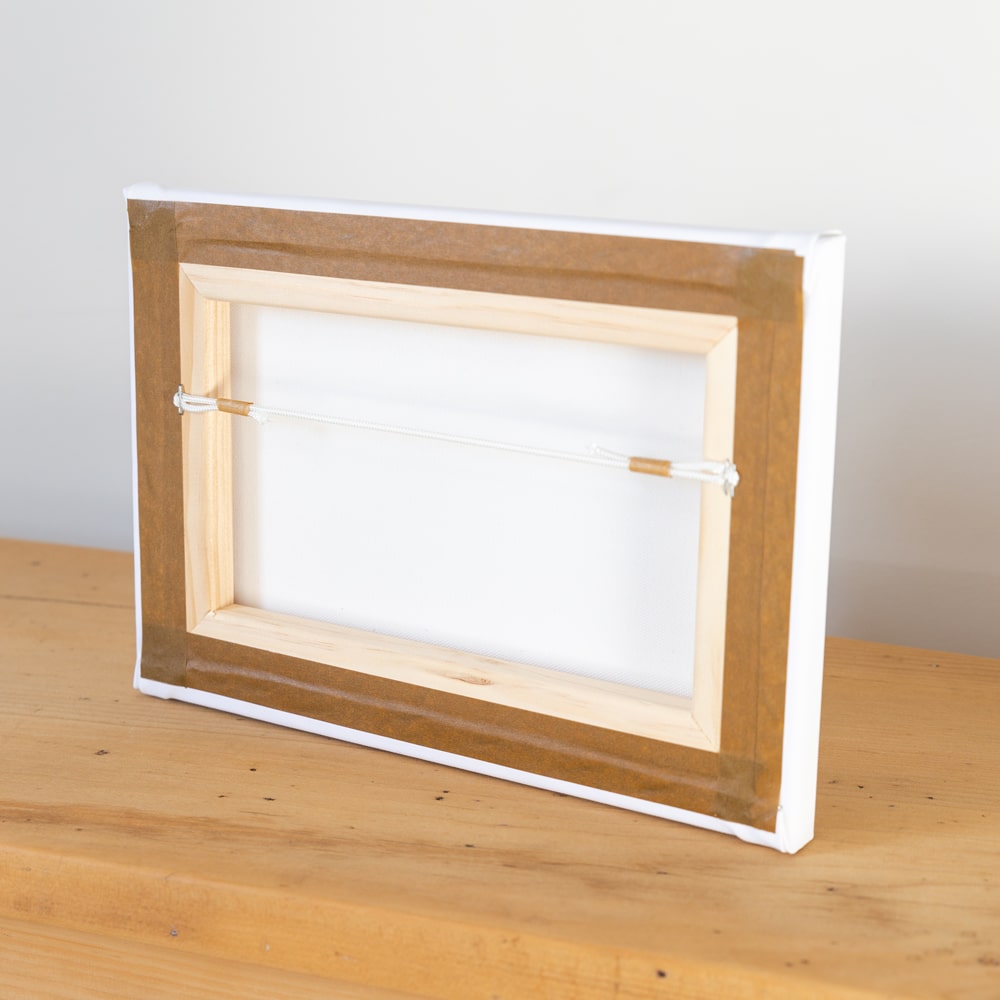 Foam Board Signage Printing
These sorts of signs are printed onto a matte adhesive vinyl which is mounted onto 5mm thick foam board. These are a lightweight option that can be propped on an easel or hung from a sign stand.
This is the most popular signage print type offered - they offer a good balance of size vs cost.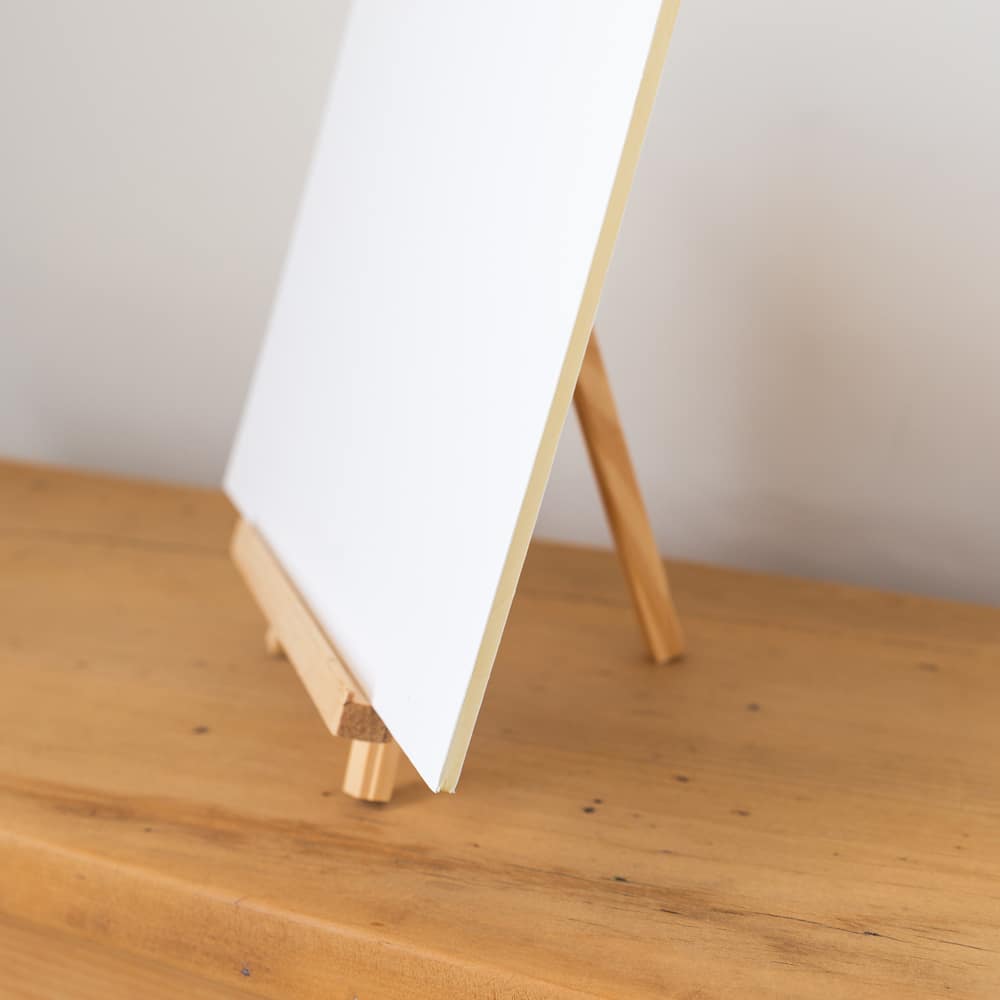 Poster Paper Signage Printing
Our seating plans and signs are printed onto durable, waterproof 220gsm synthetic poster paper. This option needs to be framed (i.e. it won't stand up by itself). Pop your framed print against a wall or on an easel.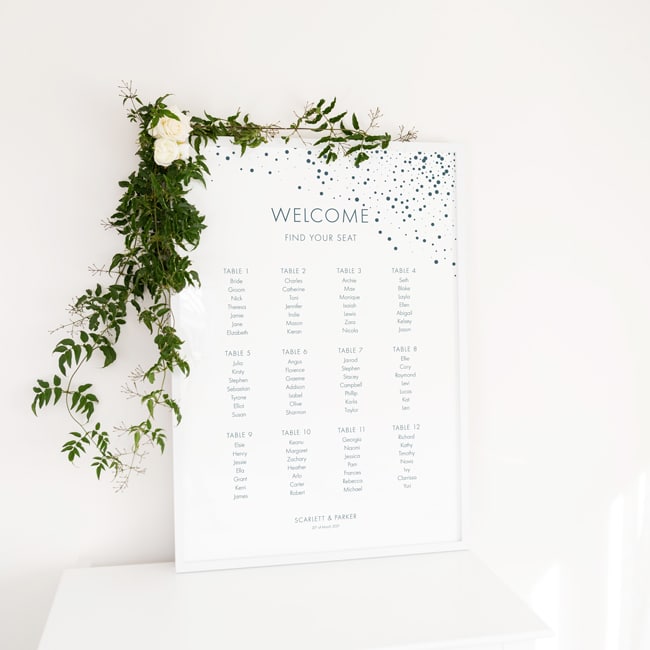 Tip // pick a frame that you'll reuse for your wedding photos!
Card Signage Printing
Seating plans and signage from A3 or smaller can be printed onto cardstock.
If you have purchased wedding stationery through Be My Guest, you can pick the same card to match the rest of your stationery pieces.
Individual tables can be printed over multiple cards, clipped to bespoke seating displays.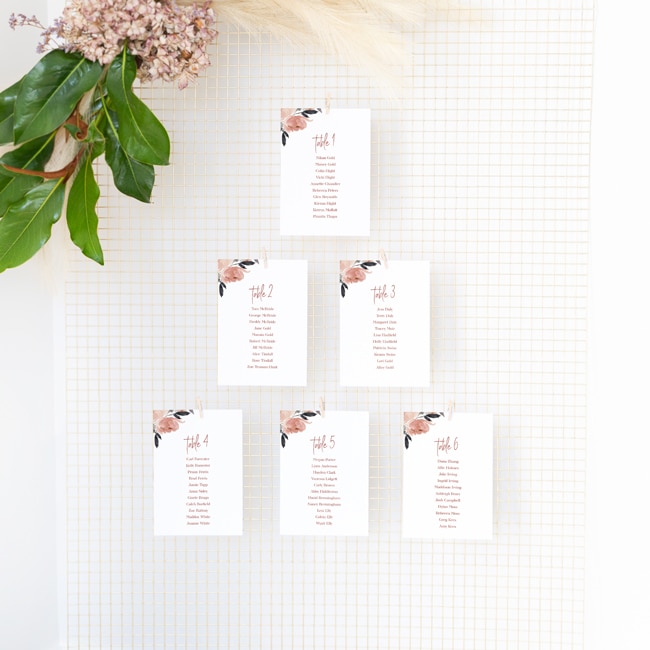 You simply select the size that suits the frame you have in mind. A6 and Long rectangle are the most popular choices.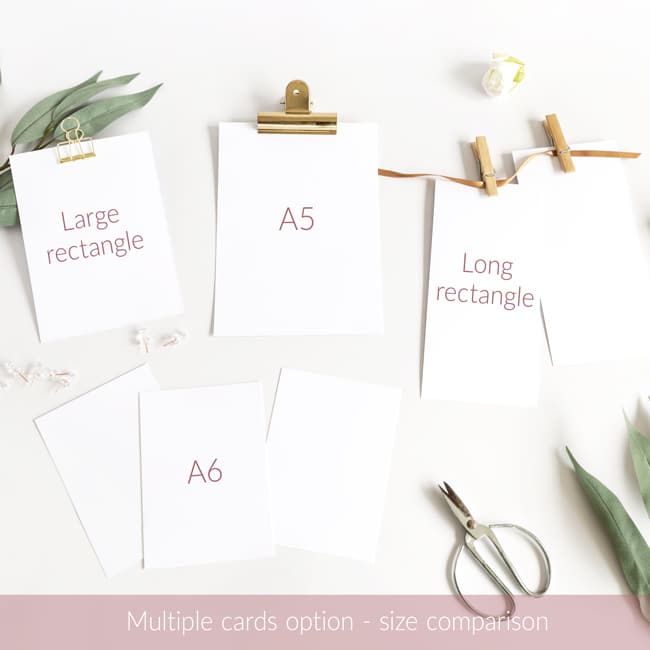 Order the wedding invitation sample pack for physical swatches of the card options on offer: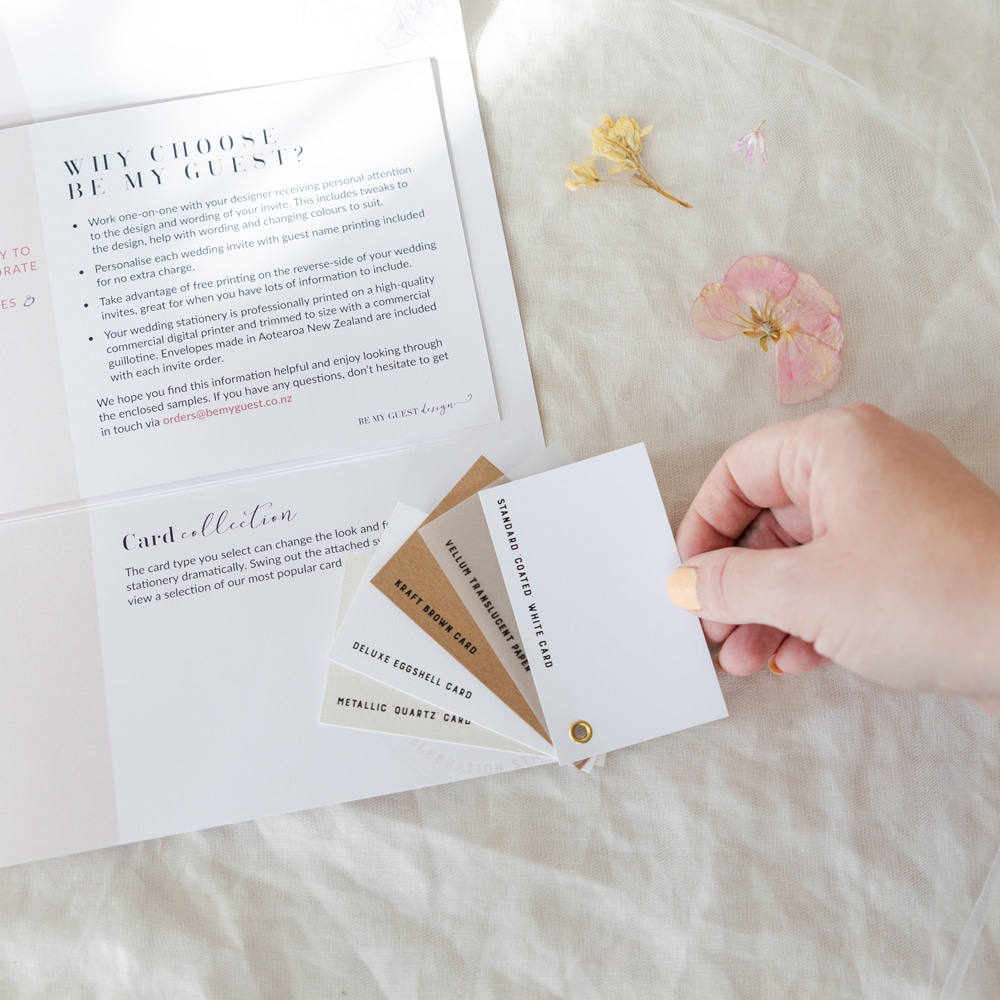 Seating Plan and Signage Turnaround
As wedding stationery is a time sensitive item, it's important to allow us as much time as possible. This ensures you receive it in plenty of time (so you can relax and know you've got everything you need for your wedding day).
The turnaround for signage depends on the printing method as each type has different production methods and therefore take different times:
For canvas prints, allow three weeks.
For foam board, poster prints and card, allow at least two weeks for design and printing.
We are able to turnaround Electronic PDF Signs within 2-3 working days.
If you need your stationery urgently, you can submit it for Express production and we will prioritise your order in the production queue. If you're in the North Island, you're also able to upgrade to Overnight shipping (we are based in the South Island so all South Island orders get overnight shipping as standard).
Remember to account for the Christmas/New Year holidays in your calculations and allow for any shipping delays.
Wedding Seating Plan and Signage Size Options
What size sign/seating plan should I pick?
The most popular size is an A1 sized sign. But the best seating plan size is the size that will work with your space. We adjust and tweak the tables to hold as many or as little guests as possible (and even accommodate guests with really long names).
The layout of the design can be changed to suit long trestles or lots of smaller tables.
Size recommendations for our large format seating plans
A1 signs work perfectly if using a floor standing easel
A2 size is perfect when your seating plan is going onto a tabletop easel
A0 is fine for big spaces but can be too big if you have a tight space
A3 suits small guest lists only. Otherwise the font gets too small to be legible by guests arriving and crowding around the plan  
Further tips for working out what size seating plan you will need can be found here.
Signage Customisation Options
I like this design but I want to change colours/customise it, can I?
Yes! Changes to the orientation, colours, layout and wording of your signage is not an issue. One of our designers will be in touch with a draft before it gets printed (within a couple of working days of your order). 
Your designer will add your details, adding or removing information as requested, and tweak the design to your preferred wording and colour scheme.
Personal attention to design & wording
There are dozens of designs to choose from. Colours, layout and wording details are changed to suit your preferences perfectly.
Your personal designer will help ensure your signage says just the right thing, guiding you on appropriate etiquette if needed. We are here to help!
Check a draft before printing
You'll receive an electronic draft mockup of your wedding signs before going to print – so you can see how everything looks, and request any changes or tweaks. Up to two rounds of revisions are included.
Professional Printing
All our signage is designed and printed in Dunedin, NZ. Printing our stationery in-house (as much as possible) allows us to control quality and prioritise turnaround times.
Coordinating Wedding Stationery
As lovers of stationery, we love knowing everything is matching! You can find matching Guestbooks, Day-of Stationery and Thank You Cards to pair with your wedding's seating plans and welcome signs.
When you order a large-format seating plan, you can add a matching sign in the same print style at a discounted rate, as we can package your signage together and save some postage! By default this is a "Welcome" sign, but let us know if you'd like something different on your extra sign (like an 'Order of Events' or 'Menu' sign).