After the time and effort taken to pull a wedding or special event off, you don't want to go forgetting every last detail anytime soon! We personalise wedding guest books, visitor books and thumbprint trees for weddings, birthday parties, life memorials, reunions, anniversaries, retirement functions and baby showers.
Guestbooks allow you remember the friends and family who made your day special, in the years to come. They are a fun activity for your guests on the day too.
Our guestbooks are New Zealand made, with a personalised card cover and plenty of room for messages and photographs. Your guestbook's messages of love and well wishes will become a treasured memento in years to come.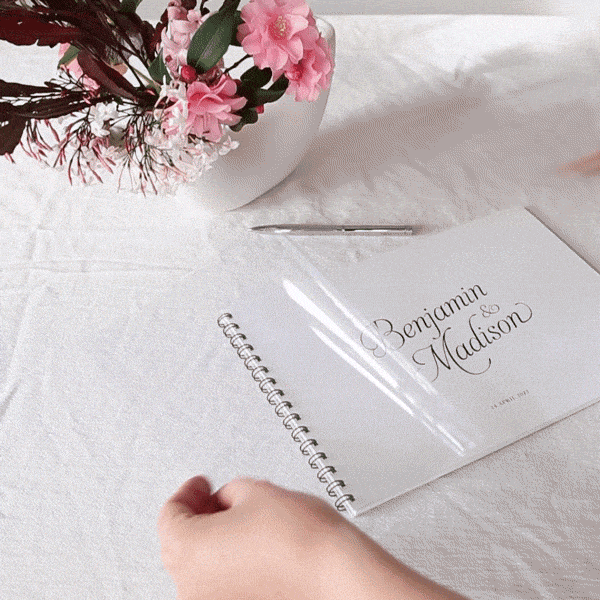 What size are the guest books?
Our guestbook pages are either our Mini size (A5, 210mm long x 148mm high) with 20 sheets, or Regular (A4, 297mm long x 210mm high) with 20, 30 or 50 sheets.
The Regular size is the most popular option for weddings, birthdays, memorials and retirement guest books. While the Mini size is most popular for baby showers, hen's nights and more intimate-sized events.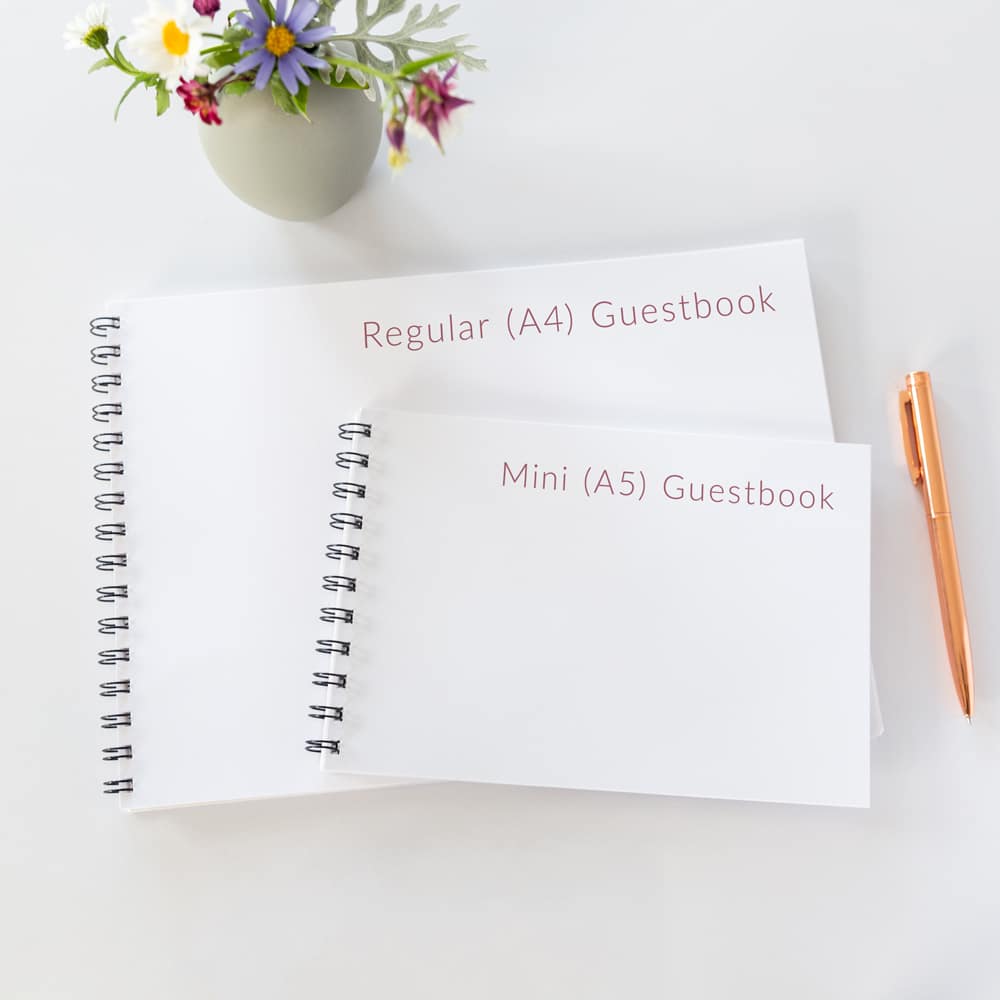 The best size and number of pages will depend on the number of guests you have attending, and whether you are getting them to stick polaroid photos in with their messages. If you've got advice cards for guests to fill out, you might want room for those to be stuck in too.
We recommending going for more sheets/pages, if in doubt. You can always add in greeting cards, menus and other mementoes from your event if you end up with spare pages afterwards.
What are the guestbook cover and pages made from?
A clear plastic cover protects the guestbook cover and your customised guestbook cover goes onto 300gsm card. A "double thick" cover option is available for an additional fee if you want a heavier weight cover.
The internal pages are an uncoated 200gsm card, so your guests can sign without worrying about pen ink bleeding or marking through to the other side of the page. Check out our guestbook pen testing to see these pages in action.
Unlined white pages are the most popular option but you can choose to get lined pages like in the image below:
Black 200gsm pages are another option available to customise your guestbook. You will need to use a pen with white or silver ink – see our recommendations for guestbook pens here.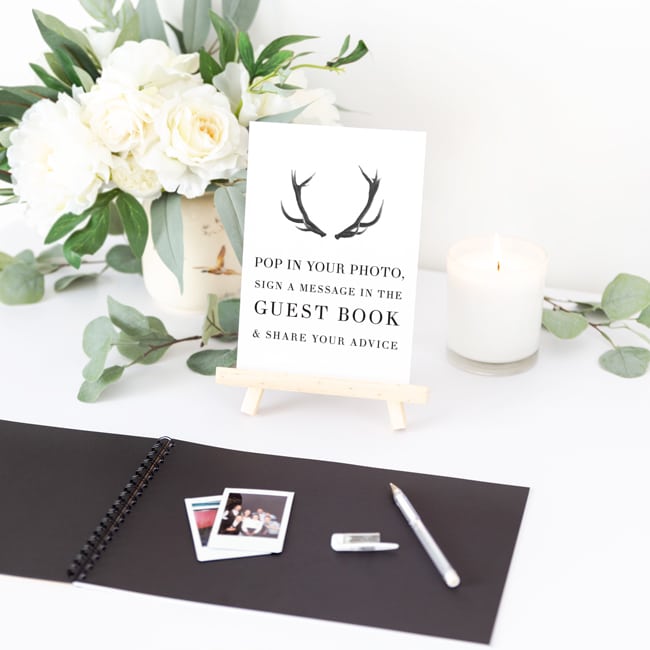 Matching signs are also available to encourage guests to sign your guestbook.
Guestbook Customisation Options
Your designer will add your details, adding or removing information as requested, and tweak the design to your preferred wording and colour scheme.
Personal attention to the design & wording of your guestbook cover
There are dozens of designs to choose from. Each cover is custom printed, so colours and wording details can be changed to suit your special event perfectly!
Don't fret if your favourite design mentions a wedding and you want it for something else – we modify each cover to suit you and your specific event.
Spiral bound so it lays flat
Our guestbooks include a protective plastic cover sheet. You can choose from white or black wire binding.
Wire-bound guestbooks are the easiest option for your guests to sign. This binding method allows your guestbook to lay flat when open, making it easier for guests to write their messages and stick in polaroid pictures!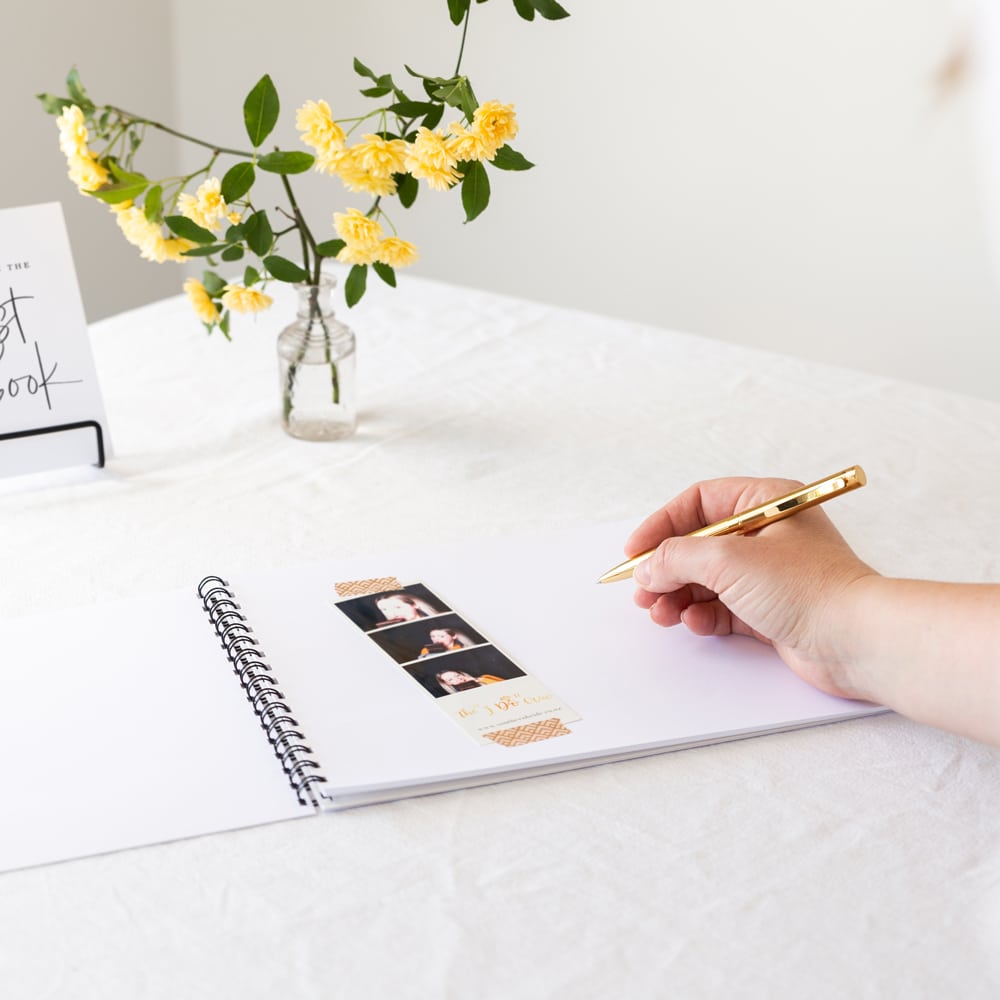 Check a draft before we print
You'll receive an electronic draft mockup of your personalised guest book cover before it goes to print – so you can see how everything looks, and request any changes or tweaks. Up to two rounds of revisions are included.
Fast turnaround
You should allow one week for your custom guestbook. This time encompasses the design process, any revisions you request, printing and production.
If you're in a rush, we have an 24 hour turnaround option available.
Your guestbook is sent via overnight courier, but please allow a couple of days extra in case of delays outside of our control.