Set the vibe for your wedding day with our range of beautiful paper goods. Communicating your style and providing important information for your guest's experience: using these pieces also marks the significance and formality of your day.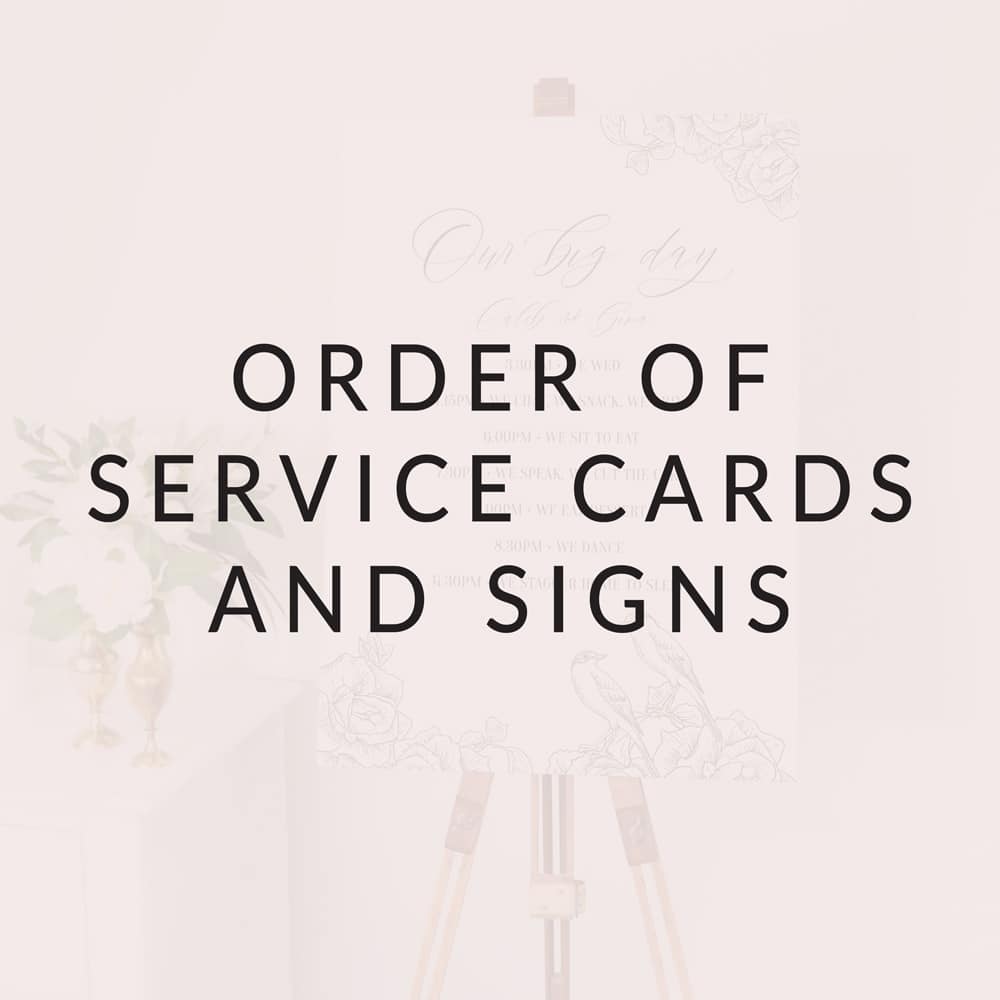 Order of Service/Wedding Programs
Known interchangeably as an Order of Service, Wedding Program or Order of Events, the distribution of these cards as your wedding guests arrive sets a formal tone for your wedding ceremony. Whilst your friends and family wait in anticipation for your ceremony to start, they can refer to the Order of Service for important details. The Order of Service also serves as a special keepsake/memento for your wedding guests.
Place Cards
Not only do place cards help guests find their seat, but they also add a personal touch to your table setting. Each order receives personal attention to the design, with tweaks and colour changes made to suit you. Each place card is double checked and tweaked to ensure longer guest names fit! More information on providing guest names for the placecards here.
Flat Placecards
Measuring 90x55mm (the size of a typical business card). These cards are a simple, straightforward place card option.
Small Folded Place Cards
Our small folded placecards are a folded piece of card that sits up, making it easy to find individual seats. The card is 90x55mm when unfolded, so the space available for the guest name is 55mm wide (45mm high).
Folded Place Cards
Our standard folded placecards are 105 x 74mm when unfolded, so each panel is 52mm high by 74mm wide. This bit of extra space gives room for names to be printed larger.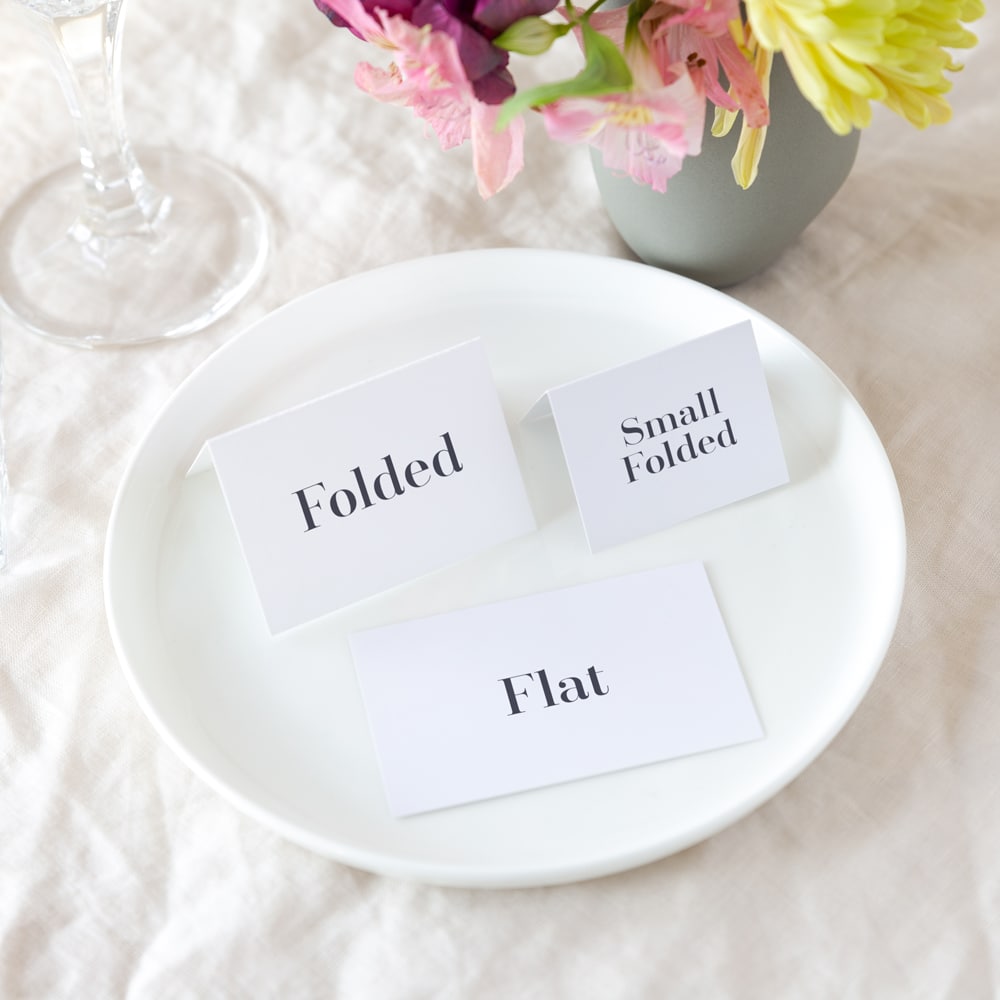 Tag Place Cards
Hang a tag from a wedding favour or tie it around cutlery. Order any of the Tag designs here, and select "Add Guest Names" option to make it a place card.
Wedding Menus
What's for dinner? Let your wedding guests know what is on the menu, with a personalised menu from Be My Guest. Matching your wedding stationery and fully customised to the menu style you're serving, a wedding menu is the final touch.
Table Numbers
Label your guest's wedding tables with table numbers, so they can quickly find their seat.
Wedding Tags
Tags are a handy piece of stationery! Use them to jazz up your wedding invitations or save the date cards. At your wedding reception, tags can double as a placecard, or say "Thank You" while hanging off a wedding favour.
We have a range of sizes and shapes available to suit most needs:
Shaped Tags are 50mm long and 36mm wide and Long Tags are 70x35mm. These are the most popular options for attaching to wedding favours.
Slim Tags (70x25mm) are what we typically recommend if you are attaching a tag to a menu. Then you're not taking up too much space with the tag on your menu, but have enough space to include your guest's name large enough for them to read.
Diamond and Square Tags are 50x50mm – the hole punch is in the middle of the top for the square tag, or in the corner for the diamond tag, so they hang differently when tied up. These are the tags that are typically used for going around pocketfold wedding invitations.
Flat Tags (90x55mm) are our largest tag option. These are about the same size as a typical business card and are what couples typically use if they are planning to use their tags as guest placenames.
Wedding and Event Activities
Want to entertain your guests with more than great music and a few too many drinks? Fun activities, games and ice breakers can add another aspect to your wedding reception, bridal shower or engagement party.