Description
Proposing to your wedding party is a planning milestone worth celebrating. A bottle of wine can be a great way to commemorate asking your nearest and dearest friends to stand by you while you say "I do".
These wine labels are printed onto self-adhesive matte polypropylene (PP). This means your sticker will survive chilling in the fridge, is waterproof, and can be recycled at end of life.
All our wine and beer labels are designed, printed and shipped from Mosgiel, 20 minutes south of Dunedin, NZ. The full range of wine labels can be found and ordered online, but a limited range is also available on display at our studio/printery if you want to drop in.
Check out our tips for removing the existing wine label and applying your custom wine label.
Wedding Party Wine Labels
These wine labels come in the full range of bridal party roles so no one will miss out!
We cater for all your wedding party members, whatever you call them! Cards with the following titles are available: Bridesmaid, Maid of Honour, Matron of Honour, Person of Honour, Junior Bridesmaid, Flower Girl, Groomsman, Bridesman, Best Man, Best Person, MC, Master of Ceremonies, Page Boy, Ring Bearer, Celebrant and Officiant. You can select the role required in the dropdown box when you order.Obviously non-drinkers and younger members of your wedding party won't be getting a bottle of alcohol, but make them feel included by popping the label onto a bottle of sparkling grapefruit juice, a box of chocolates or a candle.
As lovers of stationery, we also have lots of pretty accessories available
You can select a matching Greeting Card to match your wine labels. We will include one with the matching design (and mentioning the same bridal party member, if applicable to the design).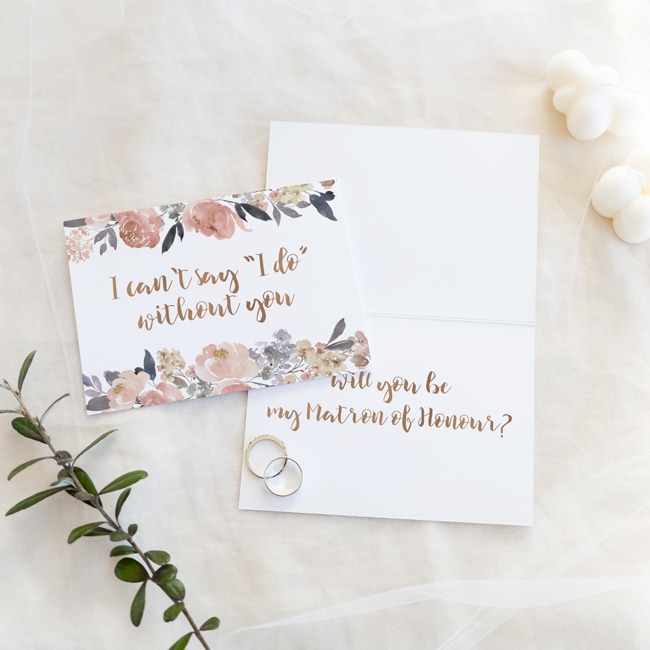 You'll also find some matching stationery on the website suitable for special occasions:
Bridesmaid Proposal Wine Labels Size Guide
Every bottle of alcohol available (still wine, champagne, sparkling, beer, cider etc) has labels that are different sizes and shapes. But with some trial and error we've figured out a range of label shapes and sizes that cover off most bottles.
Be My Guest's standard wine label stickers are 89mm wide by 105mm high. This size suits most wine bottles, spirit bottles… can even work on big bots of beer if your wedding party prefers. These wine labels work best with a tall, straight-sided wine bottle. This lets you avoid wrinkles in your gorgeous wine label!
Our personalised beer labels are 86mm wide by 76mm high. 
An oversized spirit label option works for some of the larger spirit bottles on the market. These are 100 wide by 135mm tall. (It's worth measuring up the space for a label on your preferred bottle of whisky or gin to see what size will fit best, as the wine bottle label might be a better fit in some cases.)
Gifting small bottles of bubbles or wanting to personalise mini champagne bottles for a hen's night, bridal shower or special occasion? The 70mm wide by 50mm high mini wine labels are a great choice. 
Custom wine label shapes and sizes are available – select the size you need to fit your label within and then complete the Customisation field with what measurements or shape you would like.
I like this design but I want to change colours/customise it, can I?
Yes! Changes to the colours, fonts, wording, size and shape of the wine labels are not an issue – just pop your requirements in the Customisation field. One of our designers will be in touch with a draft before it gets printed (within a couple of working days of your order).
You can add names and a date (such as a wedding date or birthday) for a small fee. Labels with these personalisations are sent straight to print.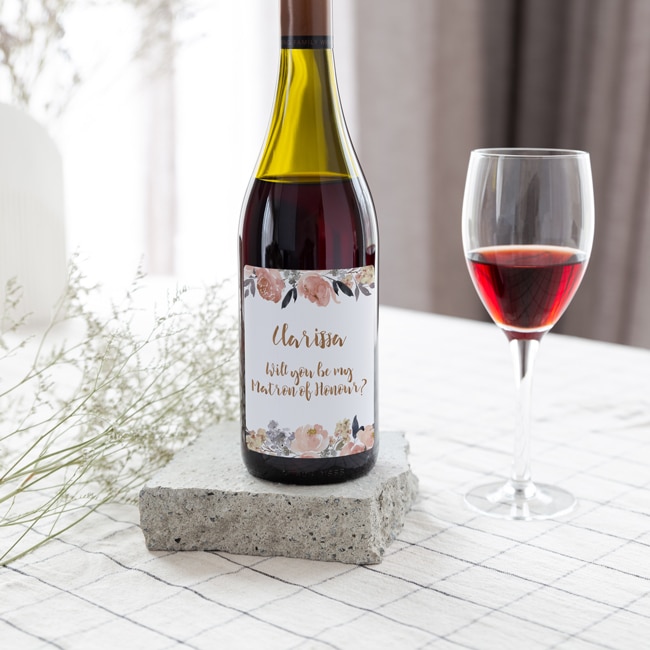 Wholesale Wine Labels
Wholesale orders of our wine labels and retail packaging are welcome, please contact us for more information.