Description
Stickers to personalise your envelopes and wedding favours
Custom-printed stickers are used as envelope seals, to personalise wedding favours and to embellish wedding invitations.
These labels are printed onto self-adhesive matte polypropylene (PP). This means your sticker will survive refrigeration, is waterproof, and can be recycled at end of life.
All our stickers are designed, printed and shipped from Mosgiel, 20 minutes south of Dunedin, NZ.
As lovers of stationery, we also have lots of pretty accessories available
You can find matching Invitations, Greeting Cards and Thank You Cards to go with your stickers:
You'll also find some matching stationery on the website suitable for special occasions:
Custom Sticker Size Guide
We have a range of sizes and shapes available to suit most needs.
Be My Guest's envelope seals are round, and are 30mm in diameter. These don't just go on envelopes though. They make perfect little stickers for the lids of small honey jars, to seal lolly bags and for embellishing invitations. You can see an example of the size on the envelope above.
Our standard size round labels are 50mm in diameter. Perfect for a small jar of preserves as a wedding favour. This is the size used for sticker seals on our pocketfold wedding invitations (like pictured below).
A large round label option is 70mm in diameter and works on larger items, wine bottles or for candles.
Rectangle sizes 54x33mm, 64x25mm, 90x25mm and 90x55mm have all been used for different wedding favours in the past, or for embellishing party poppers and mini bubble mixture bottles.
Custom sticker shapes and sizes are available – select the size you need to fit your label within and then mention in the customisation measurements or shape you would like. If you need something larger than what is listed, check out the wine label range as they are made from the same material and come in bigger sizes.
I like this design but I want to change colours/customise it, can I?
Yes! Changes to the colours, fonts, wording, size and shape of your stickers is not an issue – just pop your requirements in the Customisation field. One of our designers will be in touch with a draft before it gets printed (within a couple of working days of your order). As these are customised to suit, there is a minimum order of 40 seals required.
You are also able to add your guest's names to your stickers. Use the favour instead of a placecard. Here's some advice on adding guestnames to your stationery.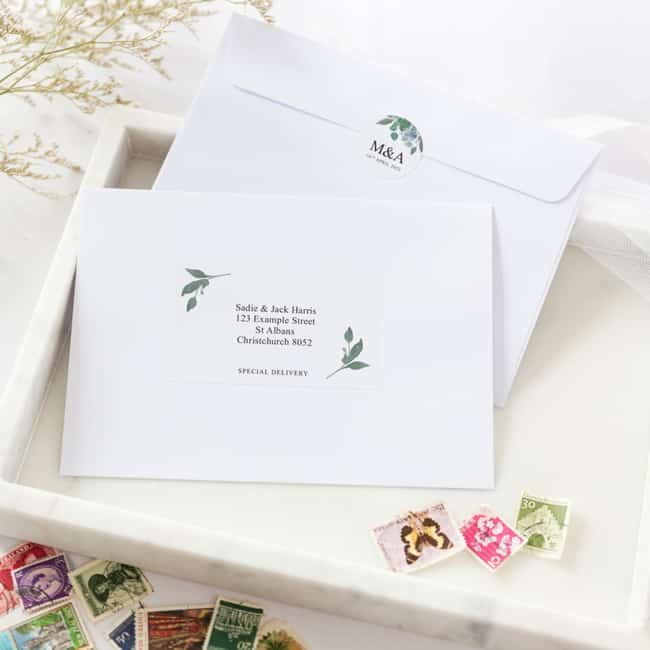 Wholesale Stickers
Wholesale orders of our stickers and wine labels and retail packaging are welcome, please contact us for more information.